Post by MadStepDad on Sept 11, 2011 20:44:51 GMT -5
[/move][/color]
______________________________________________________________________________________________________
** FACEBOOK FIGHT **
[/size][/color]
AD SANTEL (1921) versus KARO PARISYAN (2005)
[/size][/color]

versus
Karo Parisyan was indeed bringing the "HEAT" in 2005, riding a 4-win fight streak of consecutive decision victories over names like Nick Diaz, Chris Lytle & Matt Serra. Parisyan is also a lifelong Judo devotee with numerous belts, trophies and victories to his credit and he competed in the Olympic Judo trials of the 2004 games. Ad Santel on the other hand was a practitioner of catch wrestling, but he fought one of the earliest clash-of-the-styles matches in modern martial arts history against a 5th degree black belt in Judo from Japan. Santel defeated the black belt when a slamming takedown rendered the Judoka unable to continue. Ad Santel then proclaimed himself the World Judo Champion and challenged the world. The founder of judo, Professor Kano sent further challengers from 1914 to 1921 to contest Santel's claims. These judoka included 4th degree black belts, whom Santel defeated. Ad Santel drew with 5th degree black belts, proving his technique could not be defeated. Ad Santel's open challenge continues tonight. After Ad Santel showed up in Youtube videos with his World Judo Championship belt and issued an open challenge, he was answered by Karo "The Heat" Parisyan. The weeks leading up to this match resulted in numerous Twitter tirades and a major spat on an MMA messageboard over the validity of Santel's world Judo claims. But the man who would go on to tour with professional wrestling troupes certainly proves his mettle when things finally come down to the middle of the octagon. Ad Santel overtakes, outpoints and outduels Karo Parisyan in a frolicking affair similar to the Parisyan/Diaz showdown of '04. Expert display of high-level judo from both men, but Santel maneuvers into position for a fight-ending rear naked choke. Santel by submission in the 3rd round.
Winner (by rear naked choke): AD SANTEL
______________________________________________________________________________________________________
** PRELIMINARY FIGHT (Live!!!) **
[/size][/color]
MARK COLEMAN (1996) versus ANTONIO "BIGFOOT" SILVA (2011)
(Heavyweight Grand Prix Tourney)
[/size][/color]
versus

Mark "The Hammer" Coleman is an absolute monster of a man; rippling with muscles and bursting with aggression. He exploded on the scene like a Terminator – a real life Goldberg (WCW circa 1998). Coleman smashed his way through 2 UFC tournaments in a row, and is on his way to having the Heavyweight championship of the world hemmed up in a neck crank. Coleman is an unstoppable beast, and is credited with advancing the entire art of MMA itself (he is known as the "Godfather of Ground-n-Pound" for a good reason). One of the most physically imposing and intimidating monsters in MMA history. He stands opposite another physical freak of nature tonight - the aptly named "Big Foot" Antonio Silva. Afflicted by acromegaly, a condition also known as "gigantism", Silva is not your average heavyweight fighter. He's a man-monster capable of smashing a man's skull like a cantaloupe with his (sledge)hammer fists. Exhibit A – his demolition of Fedor Emelenienko in 2011. Antonio Silva, the former EliteXC Heavyweight champion, is riding the hottest streak of his career - a decision victory over Andrei Arloski, and amazing comeback victory over Mike Kyle and the incredible beat down of the aforementioned Emelienenko have all combined to make the real life giant look like a world beater. They clash tonight in a veritable dream match of Heavyweight MMA proportions. Fight is a bruising, titanic clash that ends with Bigfoot's swollen jaw getting jacked by a series of hard Coleman uppercuts in the clinch. Once on the mat, the dazed big man is susceptible to some absolutely brutal ground-n-pound from the man who invented that style. TKO stoppage at 4:15 of the 1st round as Silva is unable to defend himself from a series of Coleman hammerfists. Silva's chin is exposed here just like it was by Daniel Cormier in the Strikeforce Grand Prix (circa September 2011).
Winner (by TKO): MARK "THE HAMMER" COLEMAN
______________________________________________________________________________________________________
** PRELIMINARY FIGHT (Live!!!) **
[/size][/color]
PAUL DALEY (2011) versus WANDERLEI SILVA (2004)
[/size][/color]
versus
Paul Daley is as explosive as his nickname "Semtex" indicates. Whether it's in-cage, out-of-cage, in the streets or on the internet, the man from London England is one hot-headed, cocky sunovabitch. Notorious for his trash talk, and infamous for missing weight (as well as his post-fight sucker punch at UFC 113), Paul Daley is the brash and arrogant heel of MMA who deserves his comeuppance. Enter MMA Arch-Angel Wanderlei Silva. Arguably the most popular MMA fighter ever, Wanderlei Silva steps up for the fans to deliver the scintillating fight classic everybody expects when these two clash. This is a catchweight bout as Daley would have missed weight anyway and Silva is down from his 205 prime. But it doesn't really matter when the fists and leather starts flying, as these two are more evenly matched than you'd suspect. Crowd is on their feet for the entire bout, as the in-cage fireworks never cease. Daley catches Silva flush a few times, but this is primetime Silva – Cyborg style. He shrugs off the blows and walks right through them. A barrage of body blows wilts Daley on the cage and Silva shows why he's known as the "Axe Murderer" with a series of VICIOUS muay thai knees that finally separate Daley from consciousness in the 1st round! The world of fantasy MMA has been vindicated!!!
Winner (by KO): WANDERLEI SILVA
______________________________________________________________________________________________________
** MAIN CARD #1 **
[/size][/color]
JUNIOR DOS SANTOS (2011) versus ALISTAIR OVEREEM (2011)
(Heavyweight Grand Prix Tourney)
[/size][/color]

versus

What a way to open the actual PPV portion of the show. The Dutch "Demolition Man" Alistair Overeem certainly has grown into his body. The Reem has gone from regular LHW contender to dominant Heavyweight force. In 2011 he is in his physical prime and a holder of countless combat championships. Recent victories over Todd Duffee and Brett Rogers have only escalated his star. Not even his removal from the Strikeforce Grand Prix (circa 2011) can diminish that. He stands here tonight in the BCCW octagon ready to prove his mettle and test his legacy against the so-called "FUTURE" of Heavyweight MMA – Junior Dos Santos. JDS is a brown belt in jui-jitsu and has cut an absolute swath through the Heavyweight division in 2011. Everybody from legends like Cro Cop, Fabricio Werdum and Roy Nelson, as well as up-and-coming talents like Stefan Struve have fallen before the mighty "Cigano" Junior Dos Santos. His fists pack dynamite, as 3 out of 4 fights leading up to his title shot against Cain Valasquez at UFC on Fox (circa late 2011) have ended by brutal KO/TKO in the 1st round!!! His fantasy match with Overeem tonight does not disappoint, as each man trades heavy leather and kicks. Amazingly each man is able to weather the storm and continue the battle for 15 minutes. Overeem noticeably slows down in the final round, eating a barrage of body blows, jabs and leg kicks from JDS. Overeem is game, but the tremendous punishment he absorbs is enough to sway the judges favor. JDS wins by unanimous decision after 3 brutal rounds.
Winner (by decision): JUNIOR DOS SANTOS
______________________________________________________________________________________________________
** MAIN CARD #2 **
[/size][/color]
ROYCE GRACIE (1993) versus BJ PENN (2009)
(Welterweight #1 Contender Match)
[/size][/color]

versus
Ask almost any MMA fan/practitioner/athlete today – Royce Gracie is the reason we fell in love with this great sport. His accomplishments during the course of the first few UFC's are truly what legends are made of. Multiple fights in one night, wild-and-wooly with no weight classes, and a snazzy white Gi to boot. Royce Gracie got it going on. BJ Penn is undoubtedly one of those guys that can claim Royce Gracie as an inspiration. Not blessed with overwhelming size or speed, BJ Penn had to use his God-Given abilities to thrive – much like Gracie did before him. In 2009 BJ Penn was justifiably considered the absolute best at 155. His utter domination of formidable opponents like Sean Sherk, Kenny Florian and Diego Sanchez prove BJ Penn is indeed the "Prodigy" of MMA. Penn's dominance of the division was so thorough, the only recourse was for him to move up a weight class. So here we stand at what is BJ Penn's greatest Welterweight test to date (including his two throttlings at the hand of GSP). Royce Gracie (1993) versus BJ Penn (2009). Match is a purists wet dream. The ground control and nimble mastery of submission techniques displayed by these two men tonight is superb. Even though some of the casual fans booed and chanted "BORING" during the latter parts of Round 2, both Gracie & Penn stayed the course and put on a masterful ground fight. In the end it was Gracie's top control that must have swayed the judges favor, as he won by split decision. Both he and BJ Penn embraced post match in an excellent display of sportsmanship.
Winner (by split decision): ROYCE GRACIE
______________________________________________________________________________________________________
** MAIN CARD #3 **
[/size][/color]
DOMINICK CRUZ (2011) versus MITSUYO MAEDA (1908)
(Bantamweight Championship Match)
[/size][/color]

versus

"The Dominator" Dominick Cruz went on a tear in WEC in the late 2000's, culminating in a 9 fight win streak. He claimed the Bantamweight championship via TKO victory over Brian Bowles and later successfully defended that title against arch-nemesis Urijah Faber in the main event of UFC 132. Cruz's speed, precision and technical acumen is excellent and he's won "Fight of the Night" honors for his in-cage fireworks. Mitsuyo Maeda – the slight Japanese man – is one of the "toughest men who ever lived" and the father of Brazilian Jiu-Jitsu (Maeda trained Carlos Gracie – who in turn began the entire Gracie family fighting lineage). Maeda is a Japanese journeyman, and a highly-skilled Judokan who was trained by the legendary Jigora Kano. In 1908, Maeda took his skills on the road and challenged anyone to matches. Maedo did not call his style "Judo", possibly because he was one of the earliest students of Kano, who blended together several styles of Jujutsu to make Judo. Maedo has won more than 2000 fights, and lost only two. Well, after tonight, make it 3. Cruz uses his hand speed to keep the fight standing, while checking the leg kicks of Maeda. Cruz deftly shrugs off Maeda's takedown attempts and staggers Maeda with a flurry of high-velocity punches. He turns Maeda's face purple and blood red, but the "toughest man who ever lived" refuses to quit. He has Cruz caught in a series of dangerous submission attempts in the 4th round, but Cruz holds on to gut out an extraordinary victory. Dominick Cruz wins by decision after 5 grueling rounds.
Winner (and Bantamweight champion): DOMINICK CRUZ
______________________________________________________________________________________________________
** CO-MAIN EVENT **
[/size][/color]
ANDERSON SILVA (2011) versus FRANK SHAMROCK (1998)
(Middleweight Championship Match)
[/size][/color]

versus
Shamrock was the first to hold the UFC Middleweight Championship (later renamed the UFC Light Heavyweight Championship) and retired as the four-time defending undefeated champion. Shamrock was widely credited as being the #1 ranked pound for pound fighter in the world during his reign as the UFC Middleweight Champion. Shamrock has also won numerous titles in other mixed martial arts organizations, including the interim King of Pancrase title, the WEC Light Heavyweight Championship, and the Strikeforce Middleweight Championship. Shamrock was named "Fighter of the Decade" for the 1990s by the Wrestling Observer, "Best Full Contact Fighter", by Black Belt magazine (1998), and three time "Fighter of the Year" by Full Contact Fighter Magazine. He would go on to be called "the greatest competitor in the history of the UFC" by then UFC owner Bob Meyrowitz and announcer Jeff Blatnick. A hybrid fighter before there even was such, Frank Shamrock posed problems in every facet of MMA. In 1998, Frank Shamrock was tapping out Olympic Gold Medalists in 14 seconds, snapping limbs, and ending careers (his fight-ending slam of Igor Zinoviev broke a collarbone and C-5 vertebrae in the Russian's spine). Suffice to say, Frank Shamrock is one bad-ass muthaphuckker. His greatest glory in defeating Tito Ortiz is still yet to come, so Frank Shamrock is in the absolute prime of his career here. But then there's Anderson Silva. Almost 10 years Shamrock's elder (in this particular fantasy instance), you would think Silva's physical attributes might not be up to par when pitted against the former Lion's Den devotee. But you're wrong. Anderson Silva is the smoothest, quickest, slickest cat in the land – scoring unseen jabs and strikes that seem thrown by the hands of a ghost. Anderson Silva 2011 is the Muhammed Ali of MMA, and his showdown with Frank Shamrock (1998) is one part Silva/Sonnen (2010) and two parts Silva/Forest Griffin (2009). Shamrock looks to take the early advantage with his grappling and octagon control, but it's the stand-up striking of Silva that ultimately takes precedence. Silva by fiery KO finish in the 2nd round.
Winner (and Middleweight Champion): ANDERSON "SPIDER" SILVA
While celebrating in the middle of the octagon, Anderson Silva is surprised to see his next challenger ushered into the cage to throw down the gauntlet in person…
Introducing
RICKSON GRACIE
(1995)!!!!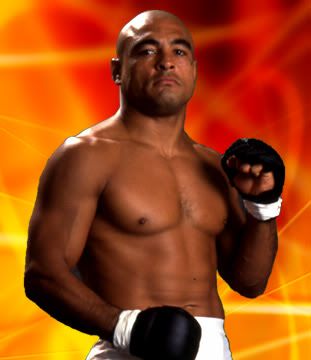 Anderson Silva vs Rickson Gracie for the Middleweight Championship at "ULTIMATE ULTIMATE FANTASY #2!!!"
[/i]
______________________________________________________________________________________________________
** MAIN EVENT **
[/size][/color]
CAIN VELASQUEZ (2010) versus FEDOR EMELIANENKO (2005)
(Heavyweight Championship Match)
[/size][/color]

versus

In 2010, Cain Velasquez transitioned from "up-and-coming" to "I'M FN HERE!" His string of victories in 2009 over names like Cheick Kongo and Ben Rothwell put him on the UFC radar, but it was his thrilling victory over Big Nog at UFC 110 that put him on the map. Suddenly, with that win he stood as a legit Heavyweight contender – albeit still a big underdog to the massive champion Brock Lesnar. Well, "Brown Pride" Cain Velasquez shocked the MMA world when he absolutely throttled Brock Lesnar in a definitive, one-round finish. The speed, agility, power and stamina of Cain Velasquez 2010 is unparalleled. Written before his long layoff from injury and prior to his bout with JDS (at UFC on Fox), Cain Velasquez stands at this point in time at the pinnacle of MMA Heavyweight competition. His opponent this evening, none other than the greatest Heavyweight fighter (arguably) of ALL TIME. "The Last Emperor" Fedor Emelianenko. In 2005 Fedor was riding the peak of his acclaim. Recent victories over Coleman, Randleman, Big Nog and Mirko Cro Cop put the MMA world on notice fast – "The Last Emperor" is the real deal. Fedor gives up about an inch in height and maybe 10 pounds to the bigger Cain Velasquez, but Fedor has a history of battling men much larger than him (and emerging victorious). Cain's boxing is expertly countered by Fedor's own brawling ability, and his judo tactics keep him well-balanced. But it's Cain's American wrestling ability that is the deciding factor here. After multiple exciting exchanges on the feet, Cain bullies Fedor to the mat and feasts upon him with ground-n-pound. TKO (barrage of punches) in Round 3.
Winner (and Heavyweight Champion of the World): CAIN VELASQUEZ
______________________________________________________________________________________________________
[/center]