Post by MadStepDad on Aug 6, 2012 15:33:26 GMT -5
TV TITLE INTRO
Cut to the in-studio announce team for the evening:
[/size][/color]


Kris Kloss & Larry Rivera
Kloss & Rivera welcome us to another week of XPW television… tonight Kloss vows to track down Rob Black and get his comments RE: the recent power struggle going on in XPW… Larry Rivera is clearly in the pro-Black camp, and lambastes Josh Lazie for his actions… but first - "Real Deal" Damien Steele goes one-on-one against CARLITO MONTANA - a fellow Cubano (like Rivera), Tool vs. Mr 80s Dynamite D… and finally the Johnny Webb versus Messiah steel cage match…
[/color]
** CUT **
__________________________________________________________________________"Corporate Power Struggle"
[/size][/color]
Josh Lazie, Rob Black & Lizzy Borden were like family - and this quick "wedding day" vignette proves that…
** CUT **
Cut to 6 months later and the slap heard round the West Coast, when Shane Douglas turned on Black and Borden… then Josh Lazie (XPW VP) revealed he had usurped control of XPW - and unleashed Sabu into the main event of "And Then There Were Four"… (see XPW TV Season One Episode #4 for full recap)...
** CUT **
__________________________________________________________________________"Introducing Carlito Montana"
[/size][/color]
Announce team interlude - "Real Deal" Damien Steele was one of the most dominant forces in XPW, until being defeated by Chris Candido in February… now this new guy is beating everybody in XPW and has challenged Damien Steele to a match…
[/color]
Introducing to XPW
CARLITO MONTANA!
** CUT TO RING **
CARLITO MONTANA versus "REAL DEAL" DAMIEN STEELE
[/size][/color]
versus

Match is from "And Then There Were Four (Night 2)" on 4/28/00... High energy, vocal crowd, and Montana plays heavily to them… Carlito is a long time member of the West Coast scene, and even had a hand in training a lot of guys that wound up in XPW… Gimmick wise he's based on Tony Montana/Razor Ramon and is a forefather to the Alberto Del Rio character… Messiah even honored his trainer Carlito Montana's contributions by adapting his "Carlito's Way" finisher as his own.. Damien Steele was also a trainer of some renown, said to have had a hand in training John Cena when he first started out in UPW… in action, Carlito Montana lights Steele up with chops in the corner, before succumbing to an offensive volley from Steele… Damien even does the lightning fast elbow drop that Austin Aries helped re-popularize… slingshot senton from Steele flattens Carlito Montana on the cement floor… back in the ring Carlito hit's a pump handle slam, but misses a top rope moonsault… Steele unleashes his patented handspring eye poke and poses for the fans… match goes back and forth with many close finishes… until Steele's Hierarchy member Jake Lawless appears at ringside (a biker outlaw who looks like Diesel, about a foot shorter)… Carlito hits Steele with an elevated Diamond Cutter (called "Carlito's Way" - the original version)… but Jake Lawless pulls the referee out of the ring by the foot at the count of "2"… after copious amounts of illegal interference - Steele winds up super-plexing Montana off the top rope THROUGH a table in the ring for the final pinfall…
Winner: "REAL DEAL" DAMIEN STEELE
** CUT **
** CHARACTER-BUILDING VIGNETTE **

Carlito Montana lounges in a lawn chair puffing a cigar in some exotic locale, while two bikini-wearing hotties rub his body down with oil… Montana cuts a vicious, cartel-leader promo on Steele & Lawless for screwing him at "And Then There Was Four"…
[/color]
** CUT **
__________________________________________________________________________"Introducing TOOL"
[/size][/color]
** Announce team interlude… Kloss vows to track Rob Black down and find out who he was on the cellphone with at the end of last episode… Rivera gets all worked up about Josh Lazie again, requiring Kloss to calm him down.. Hype Webb/Messiah main event and introduce TOOL…
[/color]
** CHARACTER-BUILDING VIGNETTE **

Scary, Rob Zombie like skits of a masked monster straight out of 8MM (Nicholas Cage movie) holding women in bondage and making scary faces for the camera while wielding a giant sword…
[/color]
** CUT TO RING **
TOOL versus "MR. '80s" DYNAMITE D
[/size][/color]

versus

In another example of XPW "biting" ECW (something alot of people were very critical of) we have the late Dynamite D - who was doing a "king of the old school"-type gimmick like Steve Corino was doing at the time... still very humorous, and he did "impressions" of the big name stars long before Black Machismo was born... in ring - Dynamite D cuts a weak Hulk Hogan impersonation and tells everybody to do "supplements".. he's billed "from the old school"… he tries using wrist locks and arm bars on Tool, but he's too damn big… burst of "big man" power offense from Tool before unleashing a surprisingly acrobatic 360 bound off the top rope into an arm wringer… Dynamite D is no match for the big monster and Tool finishes him with a power bomb/Dominator for the pin… a version of this character has been known as "Tool" and then later as "Snuff" (I use the "Snuff" version in my fantasy wrestling league because I like that name better)… I know in later years Jerry Tuite (aka "Wall" in WCW or "Malice" in TNA) worked under the mask as "Snuff" before his untimely demise…
Winner: TOOL
** CUT **
** BACKSTAGE VIGNETTE **


"Real Deal Damien Steele in Josh Lazie's office having a sit-down conversation… Steele is irate over the treatment he's suffered at the hands of Rob Black (disbanding the Hierarchy, firing his best friend etc…)… Steele can't figure out why he isn't in any promotional materials or being pushed as the face of the company (ala CM Punk's legendary rant in 2011)… he complains about Black giving the company to his wife Lizzy Borden ("she knows the boys, if you know what I mean - but that's not wrestling")… Steele vows to Lazie that if he can get another title shot he'll bring the XPW championship back to LA - and not around the waist of "some other company's CRUISERWEIGHT champion!"… Lazie gives Steele his in-ring props and agrees they have a hatred of Black & Borden in common… Steele responds "SCREW a franchise… you've got yourself the Real Deal!"…
[/color]
** CUT **
__________________________________________________________________________** MAIN EVENT **
[/size][/color]
Announce team interlude... next week we'll see Pogo the Clown… the debut of Lucha action… and Supreme versus Axl Rotten… but right now - our TV main event! Webb versus Messiah in a steel cage match!! And don't go anywhere, because after the match Kloss gets a special interview with Rob Black..
[/color]
** CUT TO RING **
THE MESSIAH versus "WHITE TRASH" JOHNNY WEBB
("Steel Cage Match")
[/size][/color]
versus
Webb on the mic promising to "kill Jesus real bad this time"… Messiah attacks with a Kendo stick, but Webb answers with his own and takes control… Rivera reiterates this is NOT an "escape rules" match - the only way to win is by pinfall or submission… Webb beats some ass with trash can lids and has things well in hand… on commentary, Larry Rivera is a constant source of entertainment as always… his faux-Chicano accent, subtle mispronunciations, and mock outrage that flares up in certain situations really makes him a memorable character… In action Messiah takes over by ramming Webb's head into the cage a few times, but gets crotched and then dropkicked off the top rope in return… Sick back body drop from Webb sends Messiah over the top rope into the cage, where he gets tangled in the ropes… Webb locks in a "fish hook" on Messiah (sitting on his back and pulling his face apart with fingers and hands) - which was also a position Extreme Associates used in a lot of their pornos as well… Webb controls the match until Messiah hit's a Godsmack on Webb - and bows gracefully for his adoring crowd (popping huge for Messiah's comeback)… but when Messiah scales the TOP of the cage wall (ala Jimmy Snuka in Madison Square Garden 1982, Rivera says on commentary)… an unseen figure rushes the ring wall… it's some mystery chick and she's shaking the cage wall, distracting Messiah… he's perched on the top of the steel cage - Webb climbs up after him - WHACKS Messiah in the back with his Kendo stick - and Messiah does a somersault fall OFF THE TOP of the cage through a wooden table on the arena floor! Kris Kloss lets out his hideous SHRIEK (that's supposed to be equivalent to Joey Styles' "OH MY GOD" but way more annoying)… this bump would get major air time in almost every XPW musical vignette to come… Webb exit's the cage to pin Messiah on the floor amidst the table wreckage…
Winner: "WHITE TRASH" JOHNNY WEBB
Just who is this mystery girl?? She's got hard nipples, a kerchief on her head and she mocks Messiah as he writhes on the arena floor in pain…
Introducing to XPW
JESSICA DARLIN!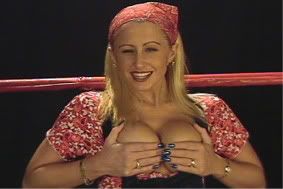 ** CUT **
** BACKSTAGE VIGNETTE **
Johnny Webb cuts a backstage promo putting over his victory - his "fried chicken and ass kickin" catchphrase - sparks a cigarette on screen - and claims to have banished Messiah from Earth… "the messiah is no savior… he's a lunatic.. And I swear to you I have not yet begun to fight…" Webb dares Messiah to seek revenge…[/I][/color]
** CUT **
__________________________________________________________________________"Episode Outro"
[/size][/color]
Kloss invades Rob Black's office, dragging a camera man with him… Black wraps up the phone call he was on and Kris Kloss starts lobbing questions at him (about who he was talking to, what's going on etc..)… but Black is irate and resentful, claiming everybody turned their back on him… he refuses to answer Klosses questions - but whips out a set of paper contracts and starts hyping the next XPW event "D-DAY"… he promises something SO HUGE it will change the face of XPW forever… what is it?? Abrupt cut to black…
** END **
__________________________________________________________________________
[/center]