Post by MadStepDad on Aug 5, 2012 10:33:26 GMT -5
TV TITLE INTRO
Cut to the in-studio announce team for the evening:
[/size][/color]


Kris Kloss & Larry Rivera
Kloss & Rivera open - tonight we take a look at the Westsidaz vs the hardcore tag team known as "Public Enemy!.. and XPW's debut at LA Sports Arena… Rivera says they knew it was gonna change the company - but little did they know it would change it inside and out… but before we do that - we'll also take a look at the man behind XPW… ROBERT BLACK!
[/color]
** CUT **
__________________________________________________________________________"XPW gets Franchised"
[/size][/color]
Hard rock XPW intro with a focus on some backstage and in-ring "shoot incidents"… some of which Rob Black plays a peripheral role in the back… cut to angry in-ring promo from Shane Douglas as he's greeted with loud "U SOLD OUT" chants… so he addresses them as "Los Angeles inbred mutha[edited]! 2Pac wannabes!" (HA HA fn awesome!!) He cuts an in character explanation for signing a multi-million dollar deal to kick "Dick Flair's ass" and rationalizes it away in baby face fashion… he even shoots on XPW Online; outraged at their audacity to criticize him ("SHUT THE [edited] UP" chant from the crowd)… Douglas portrays himself as the man who killed cartoon wrestling and made it real again… he mentions WWF, ECW & WWF in his rant… he even shoots on Rob Black and the financial uncertainty of his company as another reason why Shane took the WCW contract… Douglas has a big problem with money marks thinking they can buy their way into HIS industry… he even calls out Black's wife "Janet" also known as Lizzy Borden (oooo he used her shoot name!)
This actually draws the Xtreme Queen to the ring where she meets Douglas with confused, doe eyes… but Douglas is relentless - continuing to shoot on her and her husband while pointing aggressively in her face… Lizzy Borden is "nothing but a lowlife [edited] porno star!".. he offers to be a gentleman and let Borden say her piece, but she declines the mic… he implores her to say her piece, "PORNO BITCH"! All she can muster is "I'm glad you're going to WCW!" So he smiles and agrees - before SMACKING THE FUCKING SHIT OUT OF LIZZY BORDEN! One stiff slap sends her right to the mat! "Don't talk to me like that, you whore!" Douglas explodes! Suddenly Rob Black runs in a huff… Shane welcomes him on the mic… and they engage a quick off script conversation… suddenly Shane Douglas is apologizing to Lizzy Borden for Black's sake… but when Robert Black turns his back, Shane Douglas removes his pocket chain and KO's Black from behind! HA HA! He ain't sorry! Everybody can kiss his ass! XPW is franchise-less now! Just then - Josh Lazie (XPW VP) enters the ring and… shakes Shane's hand (?)…
** Who is Josh Lazie? **

Bassist Josh Lazie had served as Joey Castillo's drum technician and band manager for several years, when Joey joined Danzig. While touring with the band, Josh also became Eerie Von's bass technician and was asked to join Danzig after Eerie left. Lazie left the band in 1997 for about a year and a half, during which time he opened a coffee shop and played with several Los Angeles bands, as well as Oblivion Dust from Japan. He also, briefly, had a band with Max from Sepultura. He re-joined Danzig in 1998, and left the band again in 2000 and was heavily involved in the formation of XPW with Robert Black…

**
There's confusion and anger over that act, as Douglas leaves - and Lazie is left to confront Black & Borden in the ring… suddenly Lazie is all like "this is YOUR fault" because you let her run the company"… the financial backers of XPW are not happy with Black's job - he promised Candido… he promised Shane Douglas… they all left and it's Black's fault… Lazie announces Sabu coming out this weekend… but not tonight - and that's Rob Black's fault too! Lazie is turning the crowd against Black & Borden… Lazie announces he is officially "running the f[edited] show now"… but he's not firing Black, he still has a place on the team… but he does publicly remove Black as the figure head of the company - which is more of a move to assuage the smart fans and wrestling pubs that immediately took a disdain to XPW simply because Black's name was associated with it…
** CUT **
__________________________________________________________________________
** Announce team interlude… XPW's first show at LA Arena was full of controversy and surprises… Rivera discusses Josh Layzie usurping Rob Black for control of the company and gets humorously worked up… Kloss calms him down and hypes up the XPW championship match later tonight… Candido versus SABU! But first, XPW's homebrewed tag team the Westsidaz!! **
WESTSIDE NGZ versus PUBLIC ENEMY
[/size][/color]


versus

Action from the main event of "XPW Merry X-Mas" (12/17/99) in Ventura CA… Texas Tornado style with all 4 men going at it at the same time… Rocco & Chronic brawl around ringside and up the entrance ramp… Rocco even uses a barbed wire strand on Chronic's head… back in the ring and Rocco gets crotched on the top rope while Grunge does a sloppy, low-altitude leap from the top turnbuckle to drive Big Rott through a table at ringside… Chronic beats Flyboy Rocco Rock multiple times with a steel chair, until Rocco grabs the weapon and returns the favor… Big Rott winds up pitching Grunge through a table in the corner as well… cut to end of the match when the Pitbulls make a surprise run-in…


pan to the audience area where somehow Rocco Rock has Pitbull #2 on two tables and dives off a bleacher to break them… crowd chants "XPW" as back in the ring it's apparently turned into a 3-way brawl as everybody is just fighting each other… now the referees are interceding and it's clear there is no finish and no winner… all 3 teams continue to brawl… with Grunge & Big Rott brawling in the stands - Chronic sets a table ABLAZE and the Pitbulls super bomb Rocco Rock through it!! Crowd goes crazy and just as quickly the Pitbulls jump on Chronic as well… then, in one of XPW's most visually replayed moments - the Pitbulls actually PULL the giant "X" in "XPW" down on their opponents in a very dangerous spot! There's chaos, confusion, debris and destruction everywhere… crowd is chanting "XPW!"
Winner: NONE (No Contest)
** CUT **
__________________________________________________________________________
Announce team interlude… Review of Candido's title reign and how he's "holding the belt" hostage… they cover the Shane Douglas scenario before segueing to the "Match that changed XPW"…
[/color]
** XPW Championship **
[/size][/color]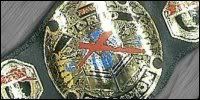 SHANE DOUGLAS versus CHRIS CANDIDO © (w/ Sunny)
[/size][/color]

versus

w/

This is the main event from "And Then There Were Four" - the first arena event XPW was promoting on Episode #1... Starts out as a singles championship match between former Triple Threat allies Candido and Douglas… on commentary Rivera laments their break up, and says it was only a short time ago we witnessed their joyful reunion… Douglas & Candido host a serviceable WCW-level main event, including an extended chinlock from Shane and a low blows from each of them … crowd eats it all up regardless; seemingly just content to get their chants and taunts off… suddenly Josh Layzie returns to jump up on the apron.. What is he doing here?.. he summons forth SABU!!
The homicidal, genocidal, suicidal madman pops the crowd - flies into a flurry of offense upon Douglas & Candido - and retrieves a table from ringside… crowd is rabidly chanting "SABU! SABU!" It's now officially a Triple Threat match… Table gets set up in the ring and Sabu puts Candido through it with a top rope leg drop… Shane KO's Sabu with his pocket chain and lets Candido get the pin… but Sabu kicks out! Shane Douglas retreats from the ring, seemingly resigning from the match… that leaves Sabu & Candido to go at it for a while, with Sabu in firm control… but when Sabu exit's the ring to grab another table, Douglas strikes from behind - and gets thrown into the fans by Sabu for his troubles! Sabu is unstoppable as the crowd chants "FUCK EM UP, SABU! FUCK EM UP!" Sabu takes Shane Douglas out on the floor with a top rope leap… Shane whips Sabu into the steel guard rail and then spikes Candido in the middle of the ring with a piledriver! Shane Douglas then demands Sabu get into the ring and make the pin on Candido - but when Sabu goes to the top turnbuckle instead - Shane pushes Sabu off the top rope! He clips his head on the corner of the table in the ring and crowd chants "HOLY SHIT!"… still standing at ringside, Shane Douglas then pushes a dazed Candido ONTO Sabu on the mat - where the ref counts the pinfall! Chris Candido has RETAINED his XPW championship!!
Winner (and STILL XPW Champion): CHRIS CANDIDO
** CUT **

Backstage locker room farewell promo from Shane Douglas where he claims to have done a HUGE favor for XPW… just like he left ECW in glory… and is off to rebuild WCW.. He left XPW in an even greater situation, and don't you forget that… He didn't screw XPW, he built it… he then cuts a promo on Candido and takes credit for enraging Sabu to a homicidal level and unleashing him upon Chris… Douglas promises Sabu is going to destroy Candido for the belt in the future…
[/color]
** CUT **
** BACKSTAGE OUTRO **

Cut to backstage skit with Black and Borden… Rob Black on the phone trying to swing a deal, while Borden ices her swollen jaw (from Shane Douglas' vicious slap earlier)… When Black sees the camera man, he flies into a rage and orders them to "get the f[edited] outta here!" Sudden cut to black…
** CUT **
__________________________________________________________________________
[/center]