Post by MadStepDad on Aug 4, 2012 13:23:22 GMT -5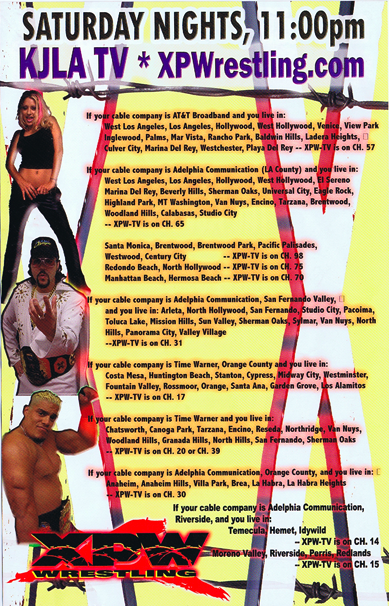 TV TITLE INTRO
Cut to the in-studio announce team for the evening:
[/size][/color]


Kris Kloss & Larry Rivera
Welcome back to XPW TV… Kloss & Rivera discuss a Shane Douglas vs. Candido match… promise footage from Supreme vs. Axl Rotten… and also hype "White Trash" Johnny Webb vs. Messiah in a steel cage… PLUS! Footage of the confrontation between Kristi Myst & Lizzy Borden…and "the most brutal tournament in the United states ever - XPW King of the Death Match tournament" will be spotlighted tonight… Larry Rivera christens it "brutality at it's most brutal"…
[/color]
** CUT TO RING **
__________________________________________________________________________"Introducing White Trash Johnny Webb"
[/size][/color]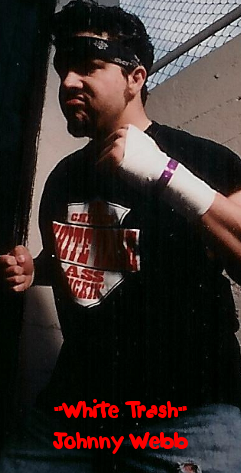 Kris Kloss voice over describes Webb as "Trailer park terror" and says he's all about "fried chicken and ass kickin" in front of large crowds of "flip flops and tank tops"… Webb is a local LA-area talent and this is his story… vignette starts with him fixing a car and talking out loud ("it's nothing to be shameful about being white trash")… he needs a better job though so he's gonna try that pro rasslin stuff ("does it matter if you have a prison record?" he wonders aloud… "hope not!")…
Webb is another instance of homebrewed XPW talent... he was a major fixture on air and in the ring - but also behind the scenes as well... it is said Webb spent long hours in the XPW offices helping edit and produce their TV product... it is also said he wound up marrying Veronica Caine, which is just completely dispicable... after his XPW run ended ("knee injury" maybe) - he did briefly resurface in Wrestling Society X on MTV as a manager for a white trash tag team... Here, we cut to video footage from XPW's very first show ever ("XPW @ Reseda" on 7/21/99), and watch Johnny Webb lose his first match to Phenomenal Phil (with a power slam onto a steel chair)… after the loss Webb disappeared to do some soul searching, but reappeared one month later on the 2nd "XPW @ Reseda" show (8/1/99) to interrupt a promo by the late great XPW original "Mr '80s" Dynamite D (who was doing kind of a Steve Corino "old school" imitation)… here, after hearing Dynamite D big up names like Bruno Sammartino & Roddy Piper, Webb enters - sits backwards on a folded chair on the entrance ramp - and talks from the heart like he's CM Punk in 2012... This is the debut of Webb's semi-famous "Welfare Check" slogan and T-shirt (based on Pipers "Reality Check" stuff at the time) and a brand new MANAGER for him as well… introducing to XPW - MISSY HYATT!!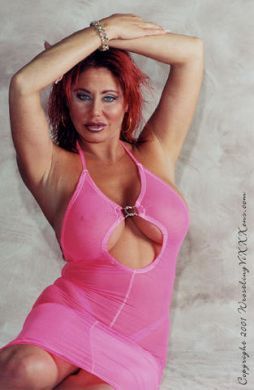 She enters to join Webb with a Kendo stick, and we cut to action and see Hyatt slipping Webb a frying pan he uses to break a hold… weapon assault including an old vinyl record, a crutch and trash can lid… Webb finally pins Dynamite D for his first victory after a bunch of Kendo stick shots… Webb + Hyatt = invigorated (and she bestows upon him a Kendo stick and lit cigarette much like she did the Sandman just a few years prior in ECW)… By September 1999, Webb was a main event player - and he had the cahones to interrupt Big Dick Dudley versus Damien Steele on the "XPW September '99" tour and earn the victory in a 3-way dance! But November saw "Real Deal" Damien Steele continue to punish Webb for his insubordination… Steele's henchmen, the "Tall Cool One" Jake Lawless (doing a "Kevin Nash as Diesel" gimmick) defeated Johnny Webb after it was revealed referee Patrick Hernandez was on the Hierarchy payroll (this led to Lizzy Borden attacking and bulldogging Hernandez, per the "censorship" feud they were waging - see XPW TV Season One Episode #1 for recap)… Lizzy Borden wound up pushing Johnny Webb right into a roll-up from Jake Lawless.. When Missy Hyatt confronted Lizzy Borden over the loss, she got shoved to the mat by the suddenly brazen Borden… video cut to the "I just don't think you're white trash enough… OLD enough… but not white trash enough" speech from Borden in which she FIRES Missy Hyatt from the company and reveals for the first time she is the bosses wife… she introduces Hyatt's "replacement" in the company and it's former porn slut Chastity… her and Hyatt engage in a clothes tearing cat fight to end that segment…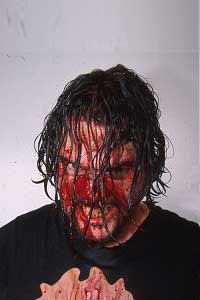 The demotion from Main Event status (compounded by the loss of his valet Missy Hyatt) sent Webb into a deep depression… he began drinking and threw himself at the mercy of company owner Rob Black… more hilarious vignettes of Webb trying to argue his cause in Blacks office (kind of like corporate Mankind) only to have Black rebuff him… "NO MORE OLD… OUT WITH THE OLD SCHOOL" Black insists… Hyatt's fired and that's that… so Webb drunkenly shows up at XPW "Abuse of Power" on 1/19/00 (with a guitar in hand like a hobo) and has some drunken slurs for Rob Black and Lizzy Borden… sings a song for Missy Hyatt instead of wrestling… before simply smashing his opponent Pancho Killa (and the ref) with his guitar - Webb unleashes a Kendo stick beating on everybody in reach ("whatchoo gonna do when Fried chicken and ass kickin runs wild on UUUU!!?!") before being removed by security…
"Enter THE MESSIAH"
[/size][/color]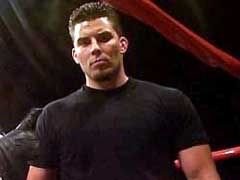 December we were introduced to the most controversial wrestler ever - MESSIAH… he is the literal "Son of God", returned to earth 2000 years later to clean up the mess we made… and he has chosen XPW as his target because of the "gratuitous sexuality and rampant hatred" they exhibit… Cut to Webb pleading for mercy from God only to have Messiah strike him down… So begins the "White Trash versus Son of God" feud… highlights from their "My Bloody Valentine 2000" fight, including Webb suplexing him onto a metal guardrail outside the ring - and the two of them fighting with Webb's Kendo stick… but Messiah's GODSMACK spinning stunner gets him the victory this time around… Messiah got the win, but Webb attacks him after the match - ties him to the giant X (for "XPW") on the entrance ramp in crucifixion form - and beats him ruthlessly with stiff head shots over and over with the Kendo stick until being restrained… White Trash Johnny Webb escapes security and flees through the crowd - a huge fan favorite for his violent actions…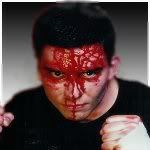 We then cut to footage from "Baptized in Blood 1" - the King of the Death match tournament "White Trash" Johnny Webb was forced to compete in to keep his job… he needed an opponent and Messiah wanted revenge… clips from their "Thumbtack Ladder" death match, including Messiah's power bomb to Webb off the top rope onto a pile of thumbtacks (that spot runs constantly in every opening montage)… Messiah wins their battle at "Baptized in Blood"… but Webb isn't dead yet… he shows up again to challenge Messiah to a match at "A New Franchise Night Two (3/25/00)" - but now Webb is a "wily veteran"… yet he makes the rookie mistake of stopping a sure-fire pinfall on Messiah to punish his opponent further… he spills thumbtacks onto the mat, but in a case of Divine karmic retribution - Webb gets power bombed on them instead… Messiah tries to seal the deal with his GODSMACK finisher, but Webb reverses out into his "Welfare Check" finisher (spinning Implant DDT) ONTO the thumbtacks for the win! Crowd chants "XPW!" for him… and post match Webb once again "crucifies" Messiah by taping his wrists to the top rope with athletic tape and blasting him with unprotected head shots from his Kendo stick…
** CUT **
__________________________________________________________________________"Baptized in Blood 1" highlights
[/size][/color]
Announcer interlude with Kloss & Rivera - Kloss covers the "attempted crucifixion" - and they hype up the steel cage match between Messiah & Webb still to come… the "crucifixion" bit is a perfect example of controversy for controversy's sake - something Rob Black's critics often accused him of... but what's worse, this angle did not generate the kind of impact that Raven crucifying Sandman, or even Undertaker doing it to Steve Austin did... Kris Kloss says the steel cage match USED to be the most brutal kind of match... but now Japanese style death matches take that honor...
[/color]
Cut to 21 year old Kaos (still "Kid" and a long way from becoming the "Rockstar") vs. Supreme death match highlights from BiB1... Kaos & Supreme are actually blood-related, and came into XPW together… Kaos hits a nice hurricanrana from the top turnbuckle to Supreme - sending him sailing through a barbed wire table on the arena floor… in the end - Supreme moonsaults Kaos (with a barbed wire board laying over him) for the finish… Cut to further tournament results with the aforementioned Messiah/Webb match, that Messiah wins with a powerbomb on the thumbtacks... Also that night Kronus beat Carlito Montana with a 40 ounce beer bottle, a bed of light tubes and finally - an apron power bomb through a table at ringside...
Fellow ECW almuni Axl Rotten also gets some shine -as we cut to his barbed wire baseball bat victory over Homeless Jimmy at the same event… He drives the Homeless one through a pane of glass for the pin... segue to the Messiah/Supreme semi-finals and Kronus versus Axl Rotten match that followed... in the "Baptized in Blood 1" finals - "Human Horror Film" SUPREME defeated Knonus using jagged shards of glass and barbewire ropes amongst other things... Supreme is the first KotDM champion in company history...
** CUT **
__________________________________________________________________________"2 HOT 4 TV!!"
[/size][/color]
Announce team Interlude.. they hype Candido's title victory and Shane Douglas debut at "Baptized in Blood 1" as key selling points for you to buy the product... on DVD & VHS coming soon (interesting fact - WCW never produced a single DVD in the US... despite being the "#2 company" at the time)... announcers also hype the upcoming Lizzy Borden/Kristi Myst confrontation (if local affiliates don't censor it first!) With enthusiasm, Kloss says "Borden makes Myst her BITCH"
[/color]
** CUT **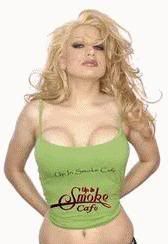 Cut to the end of a steel cage match, and we get to see the infamous "Nicole Bass choke slams Kristi Myst twice" bit… in her (naked) RF Shoot video, Kristi Myst said the 2nd choke slam injured her - and allegedly came unscripted… it was rumored to be ordered by the office to "teach her a lesson"… in reality, both choke slams looked terrible because Nicole Bass absolutely sucks, so I wouldn't be surprised if she really did injure Myst… we then cut to the Lizzy Borden promo (alongside Chastity and the XPW championship belt) where she strips Big Dick Dudley of the championship for being an "ex-con"… we cut to Kristi Myst in the ring, apologizing to the fans on the mic for Big Dick Dudley's absence (in this case she says he was in a car accident on the way from his parole office)… but Lizzy Borden interrupts to humiliate and verbally degrade Myst further… Lizzy Borden claims Big Dick Dudley tried to kill Chastity by running her off the road (leading to his car accident)… she orders Kronus to seize Kristi Myst and hold her in place for more verbal degradation by Lizzy Borden… she says Myst is only good for "sucking c[edited]" and "showing your t[edited]"! Big pop from the crowd as Lizzy Borden asks them "do you want to see some tits???" Then she RIPS Myst's dress off, and strips her down to her black lingerie… finally she orders Kronus to SPANK Myst and he gleefully obliges… he reddens Myst's bare ass while Lizzy Borden directs him on the proper way to smack it ("go back and forth!")…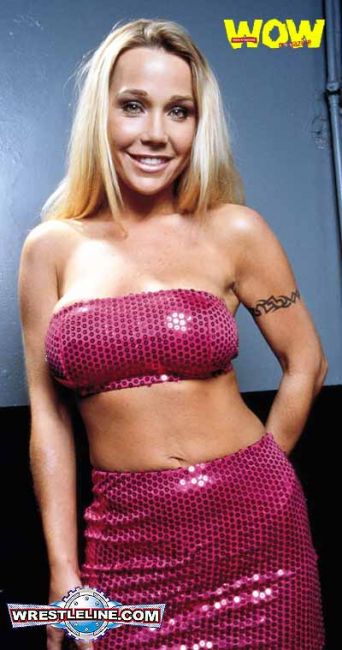 Finally we cut to another night and another similar apology from Myst (Big Dick isn't there again tonight) and another Lizzy Borden interruption (asking Kristi Myst if she is a "f[edited] retard or what")… Lizzy Borden says the REAL reason Big Dick isn't there is because he's a "f[edited] p[edited]" who's scared of XPW's "A" talent like Candido, Douglas & Kronus… then Lizzy Borden gives Kristi Myst two crowd-pleasing alternatives… she can either go backstage and " get f[edited] by all the guys back there"… (big pop) Or become Lizzy Borden's personal BITCH! She orders Myst to make her decision now, but Myst is dumbfounded and just stands there and shrugs her shoulder… so Lizzy Borden GRABS and TONGUE KISSES her right in the middle of the ring! Blatant, gratuitous displays of tongue-on-tongue action from the two girls… Eric Bischoff's "HLA" (hot lesbian action) could NEVER compare to this… Lizzy Borden starts aggressively fingering Myst's crotch, and just then we get an abrupt CUT and out of service bars! The FCC shut the show down!!!
** CUT TO BLACK **
__________________________________________________________________________
[/center]