Post by MadStepDad on Aug 3, 2012 15:53:05 GMT -5
** XPW World Championship **
[/size][/color]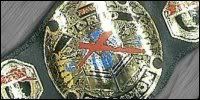 CHRIS CANDIDO (w/ Tammy) versus "REAL DEAL" DAMIEN STEELE
[/size][/color]

w/

versus

Steele vs. Candido cold open (match joined in progress)... Kris Kloss begins voice over; summarizing the match history... the XPW world title is being held "hostage" by Candido... his reign began one month ago when he met Steele for the title in a case of "polished experience" (Candido) vs. "younger upstart" (Steele)... Damien Steele is in the midst of his 2nd reign as XPW champion... fight spills out from the ring onto the hard stage area... Larry Rivera jumps on commentary for some quick play by play as the wrestlers brawl into fans, stands and an actual BAR! Humorous "drunken" elbow drop off the bar by Candido after he takes a stiff swill… that gets the pinfall and earns Candido the belt...…
Winner (and NEW XPW Champion): CHRIS CANDIDO
Post match cut to the debut of SHANE DOUGLAS in XPW! Candido & Douglas are ecstatic! Douglas & Sunny embrace... Shane Douglas proceeds to cut his world famous "Going Back to Cali/ FUCK WCW" shoot promo...
** CUT **
__________________________________________________________________________
TV TITLE INTRO
Cut to the in-studio announce team for the evening:
[/size][/color]


Kris Kloss & Larry Rivera
Kloss & Rivera debut the show - tonight we'll get a brief history of XPW in preparation of the "biggest event to date"...
XPW presents...

"AND THEN THERE WERE FOUR..."

Coming April 15th 2000 from the LA Sports arena!
[/color]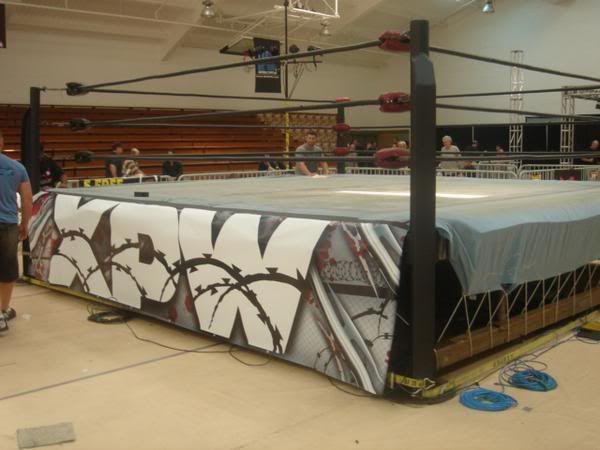 ** CUT TO RING **
__________________________________________________________________________"U Sold Out"
[/size][/color]
Lizzy Borden (w/ Kronus) in ring to start segment... "are you ready for a hot show??? Are you ready for some T&A??" she asks the receptive audience... but she has some bad news too… the XPW "champion" is a sellout! Image conscious Borden calls out Candido & Sunny... cut to Chris & Sunny (in street clothes) in the ring where they are serenaded by "U sold out" chants - and yes he damn did, Candido confirms... he's still holding the belt "hostage" and it can collect mothballs in Atlanta for all he cares... he antagonizes the audience further, and finishes with "if you think you're getting a championship match screw you... (and directed towards Lizzy Borden) "something you're familiar with... Screw you... too"...
[/color]
Cut to Shane Douglas in-ring intro - he performs a crowd pleasing promo right in Borden's face - and uses friendly reverse psychology and ego stroking to goad "friend" Candido into a title match... Douglas leans in to conspiratorially whisper something into Candido's ear... and Chris suddenly agrees he WILL defend the title tonight after all - but under HIS terms… he won't defend against Kronus - he's gonna name his own challenger… (converses with Douglas again)… and then mockingly offers to defend the title (laughs) tonight (laughs) against HOMELESS JIMMY!! Cut to humorous, Clique-like pep talk from Douglas & Candido in ring before Shane closes with promo to tout the Candido vs. Jimmy title match…
** CUT **
__________________________________________________________________________** XPW World Championship **
[/size][/color]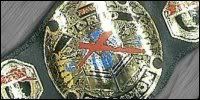 CHRIS CANDIDO (w/ Tammy & Shane Douglas)
versus
HOMELESS JIMMY
[/size][/color]

w/

&

versus

Candido with belt around neck ready for action - cuts promo before his match putting Sunny over and dissing the "homeless moron" with the shopping cart full of trash… cut to action… technical wrestling (headlocks and leapgfrogs) until Jimmy brawls back… cut to outside and Candido is lighting Jimmy's t-shirted chest with chops…hard whip into Jimmys own shopping cart is the highlight - Jimmy mounts a weak comeback with the trash can lid, but winds up caught in Candido's elevated suplex (holding Jimmy aloft for like, 60 seconds straight) before dropping him and hitting a piledriver… but a 2nd piledriver attempt is countered into a backdrop, and the brawl continues to the stage area - where Candido pitches Homeless Jimmy off right thorugh a table! Cut back to the ring, and Shane Douglas "accidentally" hits Candido with the trash can lid! Jimmy gets the cover! 1!.. 2!.. KICKOUT! Douglas redeems himself by tossing in a chain to Candido - who KO's Jimmy with it - and then pins him... cut - post match, Candido and Rob Black are vehemently arguing amongst each other - going nose to nose…
Winner (and STILL XPW Champion): CHRIS CANDIDO
** CUT **
__________________________________________________________________________"History of XPW Championship"
[/size][/color]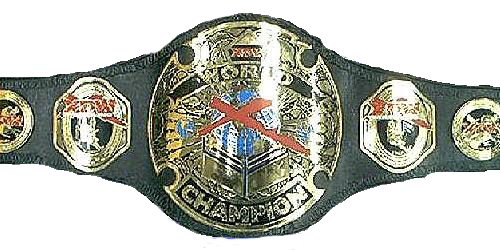 ** Announce Team Interlude **
Kloss & Rivera in front of burning XPW graphic... Candido was supposed to "do the right thing" but a double cross took place (see previous segment)... Who screwed who? We'll see the aftermath of this event later, but first - a history of the XPW title and why it's so God[edited] important...
We start with the 1999 tourney results, and a focus on "Real Deal" Damien Steele & Big Dick Dudley... Steele was so desperate to win the title - he formed the "Hierarchy" to serve as his insurance policy (starring Nicole Bass, Jake Lawless & Kronus)... Hierarchy is shown destroying Big Dick Dudley before the title match... suddenly Dick's "girlfriend" Jasmin St. Claire appears, but swerves everybody by joining the Hierarchy and throwing a fireball in Big Dick's face! It blinds Big Dick and takes him out of the title picture... he's rushed to the hospital in an ambulance, and only Kristi Myst volunteers to ride with him... classified "more of a nuisance than a threat" - "White Trash" Johnny Webb is then victimized by Steele & Kronus (but thankfully Webb's valet Missy Hyatt prevents him from being hospitalized as well)... cut to battle royal finish with the Hierarchy quickly dominating… Webb eliminated Bass… but he's tossed by Steele… In the end only Hierarchy remain, and the set-up becomes quickly apparent as Steele orders his underlings OUT of the ring! Jake Lawless complies and steps over ropes… but Kronus doesn't want to! Instead, he clotheslines Steele from behind! But Steele tosses him over top rope in the end… to become the 1st XPW Champion... cut to photo segments in the back with a bloody Steele posing with his belt and Hierarchy members...

Cut to Steele defending against Kaos and his Hierarchy constantly interfering… Kronus wants a shot but keeps getting jumped and beaten by Steele & crew… Big Dick came back and challenged Steele… but he was still blinded by the fireball and talked into being handcuffed... Big Dick at the mercy of the Heirarchy once more - until Kronus came in and cleared everybody out... then Dick rips off his handcuffs and pulls the bandage off his eyes, revealing to all that he is actually 100% healthy... He destroys Damien Steele and finishes him with a choke bomb for the pin! We have a new XPW Champion - BIG DICK DUDLEY! Kris Kloss says "all of Hollywood was celebrating"… Steele even breaks up with St. Claire post match after the loss… but Big Dick was quickly stripped of the title by Lizzy Borden - who said "an ex-con is not worthy of the XPW world championship"…

Cut to Candido promo in ring opposite Damien Steele… mic battles between the two men… Steele claims he was screwed and that his title was stolen from him by that "creepy cross eyed crackhead" Kronus… so sure, Steele offers to take the crappy belt and defend it against Chris Candido tonight - but Borden doesn't bend - instead she orders Jake Lawless & Michael Modest (Hierarchy members) to fight each OTHER for the belt! Steele is irrate, but winds up buying the belt back from Jake Lawless anyway - after the big "Kevin Nash as Diesel"-looking Jake Lawless won it (because Lawless likes the green better than gold)... cut to the Candido versus Steele finish - where Steele hits a top rope superplex, and Candido manuevers him into a pin… but Borden suddenly says the match was NOT for the title and takes the belt! So Tammy Sytch bumrushes her from the rear and the two begin a clothes-tearing catfight…
** CUT **
__________________________________________________________________________"Violent Crap"
[/size][/color]
** Announce Team Interlude **
Kross hypes up the ultra-violent portion of XPW, while Rivera continues to play the hilarious anti-hardcore counter point... the word on the marquee says "WRESTLING" and Larry Rivera can never figure out why this "violent crap" has such an appeal... but Kloss assures us it does, and nobody does it better than XPW... let's get to know some of the death match warriors further...
[/color]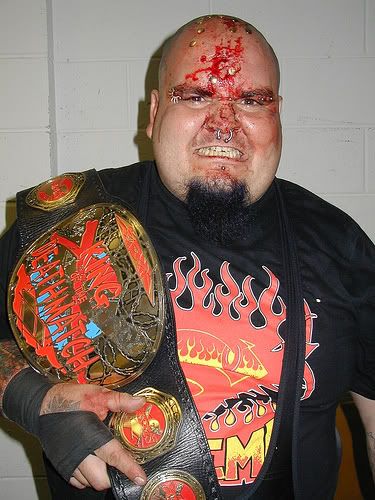 "Human Horror Film" SUPREME
Supreme promo - answered by Axl Rotten - just as Supreme seemingly has the match won - Kronus appears out of nowehere to shove Supreme from the top rope! Chairshot from Axl gets the pin on Supreme... Kronus is cheering old ECW brethren Axl Rotten on... but Axl quickly hits HIM with a steel chair as well, proving "everyman for himself" is the law of the land in XPW... but post match, Supreme gets his crowd appeal back by attacking and savaging Axl Rotten until he's pried off by officials...
** CUT **
Cut to Supreme vs. Messiah (KotDM tournament #1, semi-finals) - "frog splash" with a steel chair through a bed of tacks gets Supreme the win over Messiah... cut to the other semi finals match between Kronus vs. Rotten (Kronus is out for revenge)… Kronus wins with a suplex through a barbed wire board - cut to Supreme vs. Kronus in the KotDM finals (in a "no rope barbed wire, beds of everything" match)… light bulbs, glass, thumbtacks and barbed wire are all used - and Supreme takes his moderately famous "Irish whipped THROUGH the barbed wire strands" spot…
Supreme proved he is "in their class" - and while they now respect him as an equal - Kronus & Axl still challenged him to a 3-way dance (non title match)... Supreme misses a balcony dive through a table when Axl Rotten pulls his intended target away at the last time - and steals the pin on Supreme... we finish the montage with Kloss & Rivera hyping up the big "Axl Rotten versus Supreme" rematch at the next XPW event.... XPW is a blend of violence and sex… we just saw some violence… when we come back we see the SEX!
** CUT **
__________________________________________________________________________"Presenting Lizzy Borden"
[/size][/color]
"Presenting Lizzy Borden" montage… Rob Zombie-like, black-and-white movie reel footage… trippy and evil… review her rise from risqué ring girl to her battle with censorship (in the form of referee Patrick Hernandez)… at one point, he's so disgusted by her brazen antics - that he ORDERS her to drop to her knees before him (which she does)... but before he can tell her anything else, she strikes with a low blow and DDT! Lizzy Borden turns face and encourages the crowd to chant "XPW!"... suddenly she turns power mad - when questioned by Missy Hyatt on a recent decision, Lizzy Borden FIRES her (with the famous "I just don't think you're white trash enough... OLD enough... but not white trash enough..." line)... Lizzy Borden then reveals for the first time she is now the bosses WIFE! Thus her turn into a "power mad dictator" overnight - she hires Chastity (old WCW valet until it was revealed she had starred in a porno)... now NOBODY was safe in XPW… cut to Borden dissing Jasmin St Claire on the mic and forcing her into a quick squash match with Nicole Bass... Borden also exploited Big Dick's legal problems and stripped him of the XPW Championship... cut to Borden dismissing Steele's request for the belt and making the Jake Lawless vs Michael Modest match instead (see earlier segment)... because Lizzy Borden doesn't want the belt... she wants Kristi Myst instead!... cue infamous "Lap dance" segment... finishes with Borden directing Chris Candido to clothesline Jasmin St Claire to the mat...
Lizzy Borden demands a lap dance from Kristi Myst
** CUT **
__________________________________________________________________________"Episode Outro"
[/size][/color]
We finish with video footage of Shane Douglas turning on old pal Chris Candido - and hitting him with a steel chain, elbow drop, and finally a Pittsburg plunge that "breaks" Candido's neck... Shane cuts promo against Candido (heavily edited)… and calls him out for screwing Shane back in the day against Taz… Shane hypes next event - and promises to dethrone Candido… "RECEIPT, muthaphucker!!"... we're also promised a Messiah/Webb steel cage match and a death match as well... we end with footage of Candido laid out on the mat, as security personnel, medical staff and other wrestlers (like Steele, Nicole Bass & Ian Rotten amongst others) "breaking character" to offer aid to the injured Candido...
** END **
__________________________________________________________________________
[/center]