Post by Leo on Aug 1, 2020 9:55:59 GMT -5
CCW Superstar Saturday on SCA, Episode 4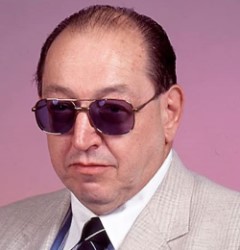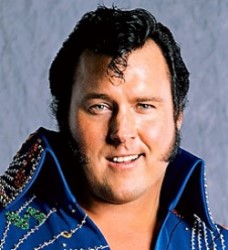 The camera pans the cheering crowd in the Andy Kaufman Studios before stopping on Gorilla Monsoon and the Honky Tonk Man at the broadcast position.
GM: Welcome, one and all to this week's edition of Continental Championship Wrestling's Superstar Saturday here on Sports Channel America. I'm Gorilla Monsoon and with me, as always, is the Honky Tonk Man. Our main event today will be the semi-finals of the Southeastern Heavyweight Title tournament pitting Sting against Sheamus with the winner facing Dave Bautista on Aug. 9 at Phoenix Rising.
HTM: And we already know the Southeastern Tag Team tournament finals for Phoenix Rising. The Steiner Brothers will face the Butcher and the Blade. And we'll get a preview of that today in six-man tag action as Triple B - Butcher, Blade and Bautista – square off with the Steiners and Jimmy Snuka.
GM: Plus, as promised last week, Buff Bagwell and Scott Norton will face Randy Savage and Steve Austin. Vicious and Delicious said they wanted some competition finally here in CCW and they'll get it from two men part of that big triple threat at Phoenix Rising. The winner of which will face the MUW Men's Champion at our September Super Show.
HTM: And the other man in that triple threat will be seeing action as well today. Ric Flair has personally challenged the Black Scorpion of Hot Stuff Incorporated. Flair said he stole a gimmick he created and he wants it back.
GM: For right now, let's go to the ring for our first bout.
vs.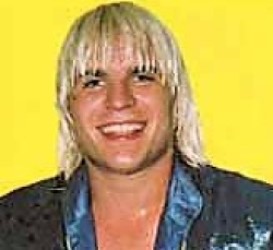 Paul Burchill vs. "Wildfire" Tommy Rich
Burchill is aggressive and fast to start blitzing Rich with a series of suplexes and slams. Adrian Street comes out and sits in on commentary.
GM: Two weeks ago, you and Paul Burchill had a match that ended in a brawling double count out.
AS: I didn't want to fight Paula, Gorilla, I'm looking for a partner.
GM: A tag team partner?
AS: Well, that too.
Burchill notices Street at the broadcast position and starts yelling at him from the ring. This allows Rich to get an O'Connor Roll for a near fall. Burchill explodes out of the rollup with a leaping clothesline. He picks Rich up and finishes with the C-4.
Winner: Paul Burchill
Burchill goes immediately to the floor and goes for Street. Street meets him and they fight off to the back. Gorilla starts to talk again on the show, but Burchill comes back out and grabs a microphone.
PB: I'm tired of Adrian Street playing games with me. Nobody plays with Paul Burchill and everyone in CCW needs to know that. I want Street at Phoenix Rising and not in a match. In a damn fight, he won't walk away from.
Street then returns and they fight off anew.
COMMERCIAL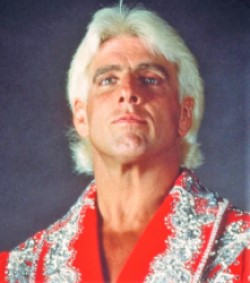 vs.
"Nature Boy" Ric Flair vs. The Black Scorpion
Flair jaws at the Scorpion who remains silent. Flair feigns a lockup and nails a forearm shot. Snap mare puts Scorpion on the ground. Flair works a chinlock with a break every now and then to drive some knees into the Scorpion's back. Scorpion finally fights out and whips Flair into the near corner. He charges into a back elbow from Flair. Flair chop blocks the knee and Scorpion goes down. Figure four leglock. Scorpion makes the ropes. Flair surprises with a sleeper hold and Scorpion goes out.
Winner: Ric Flair
Flair removes the mask from Scorpion and reveals him to be Doug Gilbert, Eddie's brother. Flair takes the mask and the Black Scorpion cape with him.
COMMERCIAL
A voice is heard over a black back drop.
The time has come. The time when the heavens open and the gods shoot a bolt of lightning down on the earth below. And riding that lightning is a being of unfathomable power. A being whose sheer essence will redefine all of reality. A being who spreads hope before him and destrucity behind him. The time has come for the time to come.
An emblem then slowly comes into view. And under it reads "Coming at Phoenix Rising."
COMMERCIAL BREAK OVER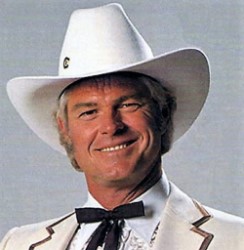 Col. Robert Fuller is out and is waving a piece of paper. Gorilla Monsoon is rolling his eyes, but Honk Tonk Man is giving Fuller is full attention.
RF: I have here in my hand a match contract for Phoenix Rising for Ronnie Garvin. If he wants to see who has the hardest punch in wrestling between him and the Big Show, then come out here and sign this contract right here, right now.
Fuller continues to run his mouth until Garvin comes out. Fuller gets a bit skittish, but Garvin rips the paper out of his hands.
RF: You're dumber than you look, boy. I never thought you would come out here. But before you put your name on that dotted line. Let me tell you one more thing. This is no normal match. It's a taped fist bout! Not going to sign it now are you.
Fuller smiles wide. Garven shrugs and signs the contract anyway. Fuller is surprised.
RF: Boy, you got more guts than brains. You just signed your death warrant.
RG: You want to see how hard I hit, Fuller, I'll show you now.
Garvin pulls his arm back, Fuller backs up all the way behind the commentator table and runs around the other side to get away from Garvin.
RG: Alright, I'll save this fist right here for Big Show at Phoenix Rising.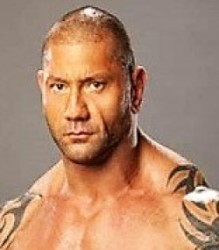 Vs.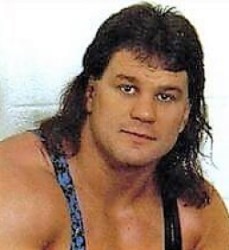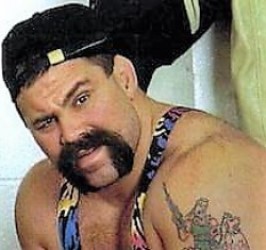 Triple B (Butcher, Blade and Batista) with Woman vs. Steiner Brothers (Rick and Scott) and "Superfly" Jimmy Snuka with Missy Hyatt
By orders of woman Butcher and Blade attack the Steiner Brothers on the apron. They fight around the ringside area, basically leaving Batista and Snuka in the ring. Snuka tries a flying head scissors, but Batista just grabs him to block and turns it into a Batista Bomb for the win.
Winners: Triple B
COMMERCIAL
Woo! I know every man out there wants to be just like the Nature Boy, but you can't be. You can't look like me. You can't wrestle like me. You can't party all night like me. You can't wow the ladies like me. But you know one thing you can do. You can smell like the Nature Boy when you put on Hai Karate. The cologne and aftershave that just might have the women coming after you like they come after the Nature Boy. Just be careful how you use it. Hai Karate – the official sponsor of CCW Phoenix Rising.
COMMERCIAL BREAK OVER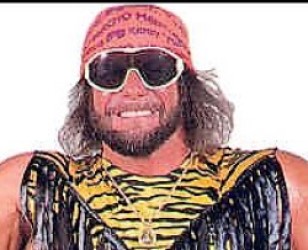 Vs.
Stone Cold Madness (Randy Savage and Steve Austin) vs. Vicious and Delicious (Buff Bagwell and Scott Norton)
Savage and Austin argue over who is going to start. Norton jumps Austin from behind answering that question. Norton beats down Austin to start. He whips Steve into the ropes, who comes back with a Thesz Press. He pounds on Norton. Back drop off the ropes. Elbow drop. Tag to Savage. Randy comes in with an elbow drop, but Norton moves and tags Bagwell. Buff works Savage over. Butterfly suplex. Bagwell showboats to the crowd. Savage pops up, slaps Bagwell in the face, whips him to the near corner and charges in with a knee lift. He scores a double axe handle off the second turnbuckle. Tag to Austin. Austin works Bagwell over. Stunner to Buff. Norton runs in to eat a Stunner. Savage nails the top rope elbow drop on Bagwell to finish. Savage and Austin look at each other. Randy extends his hand for a shake, Austin just walks off.
Winners: Stone Cold Madness
COMMERCIAL
Eddie Gilbert stands in an empty black room.
I have made a promise and Eddie Gilbert always keeps his word. But it can often be the old adage of be careful what you ask for, because you just might get it. At Phoenix Rising I will unveil the newest member of Hot Stuff Incorporated. He's the most devastating wrestler of all time. A gruesome fright never before seen or fathomed. God once destroyed the world with water. Come Phoenix Rising, I will destroy it with fire.
Flames then arise all around Gilbert and he brings up a mask in his hands for the camera to see.
COMMERCIAL BREAK OVER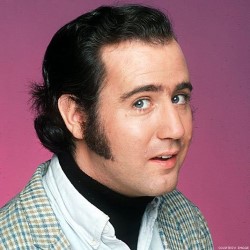 Back from break, Andy Kaufman is out with Vinnie Vegas standing behind him. He's already in mid-rant. Kaufman is wearing a neck brace.
AK:……Look at this Mr. Monsoon. You think your hero Sting is so great. He put me in this neck brace when he hit me last week. And he will pay for it.
HTM: Take him out of the tournament semi-finals tonight!
AK: No, Mr. Tonk Man. I could easily do that, but I won't. I could easily sue Sting for everything he has and ever will have, but I'm not doing that either. Sting will meet justice and he'll meet in the ring. If it's not at the hands of Sheamus tonight, it will be against Dave Batista at Phoenix Rising. And if it's not then, my Yokozuna is still waiting in the wings. You put me in a neck brace, Sting, but I'll see you in a casket before this is all over.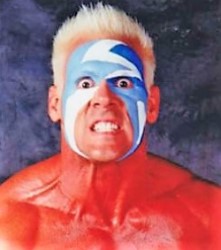 vs.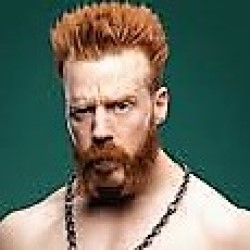 Sting vs. Sheamus
Sheamus talks trash to start. He shoves Sting. Sting beats his chest and woos. Sting shoves Sheamus. Sheamus screams and spread his arms out wide. The run into each other and lock up. Sheamus throws Sting into the near corner. Sting beats his chest and woos. He rushes back out and locks up again. Sting throws Sheamus into the near corner. Sheamus yells and spreads his arms out again. They then slug it out. Sheamus moves on a Stinger Splash attempt. Sting got so much air that he goes over the top and nails his face on the post. Sheamus works Sting over pretty good. He goes for the Celtic Cross. Sting slips out of the back. Sheamus turns into a drop kick. He pops up into a second. He pops up into a third. Sheamus rolls to the floor, but Sting slingshots out and flattens him. Running power slam on the floor. Sting impresses with a press slam back in the ring. He locks in the Scorpion Deathlock. Dave Batista walks out and gets on the apron. He just stares and Sting and Sting stares back. Sheamus tries to fight out, tries to make the ropes. He's stuck and finally taps out. Sting releases and the referee raises his hand in victory, but the whole time Sting and Batista do not take their eyes off each other. We fade to black, then the official card for Phoenix Rising is shown.
Winner: Sting

All rights reserved. Andy Kaufman Enterprises. 1980-something.
CCW Super Show 1: Phoenix Rising brought to you by Hai Karate
Live from the Mobile Municipal Auditorium in Mobile, Alabama
Commentary: Gorilla Monsoon and Honky Tonk Man
Triple Threat Match for a shot at the MUW Men's Title
"Nature Boy" Ric Flair vs. "Stone Cold" Steve Austin vs. "Macho Man" Randy Savage with Miss Elizabeth
CCW Southeastern Heavyweight Title Tournament Finals
Sting vs. Dave Bautista with Woman
CCW Southeastern Tag Team Titles Tournament Finals
Steiner Brothers (Rick and Scott) with Missy Hyatt vs. The Butcher and the Blade with Woman
Taped Fist Match – Must Win by Knockout
"The Man with the Hands of Stone" Ronnie Garvin vs. The Big Show with Col. Robert Fuller
All Seconds Banned from Ringside
"The Universal Heartthrob" Austin Idol vs. "Hot Stuff" Eddie Gilbert
Four Team Ladder Match for the CCW Gulf Cost Tag Team Titles
Midnight Rockers (Shawn Michaels and Marty Jannetty) vs. Badd Company (Pat Tanaka and Paul Diamond) vs. Strike Force (Rick Martel and Tito Santana) vs. American Alpha (Chad Gable and Jason Jordan)
Come as You Are Street Fight
"Exotic" Adrian Street vs. Paul Burchill
15-man Battle Royale for the CCW Gulf Coast Title
Sheamus vs. Don Muraco vs. Tommy Rich vs. Jim Duggan vs. Jimmy Snuka vs. Mortis (Chris Kanyon) vs. Wrath (Doug Gilbert) vs. Bobby Eaton vs. Stan Lane vs. Buff Bagwell vs. Scott Norton vs. Big John Studd vs. Vinnie Vegas vs. two mystery entrants