Post by Leo on Jul 24, 2020 16:48:45 GMT -5
CCW Superstar Saturday on SCA, Episode 3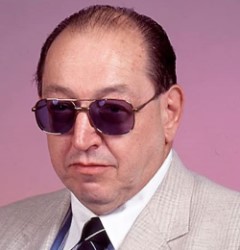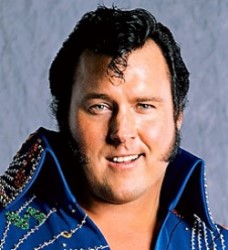 The camera pans the cheering fans in the Andy Kaufman Studios and then go over to Gorilla Monsoon and Honky Tonk Man at the broadcast position.
GM: Welcome, one and all to the latest edition of CCW Superstar Saturday here on Sports Channel America. This week the Southeastern Heavyweight Title and Tag Team titles tournaments continue on. We'll also be hearing from the three men involved in the big triple threat at Phoenix Rising on Aug. 9 – Randy Savage, Ric Flair and Steve Austin.
Monsoon is interrupted by Buff Bagwell and Scott Norton. The fans jeer as Bagwell steals a microphone from Monsoon. Norton stands with his arms crossed behind the Honky Tonk Man, but he's not going to be giving the big man any trouble.
BB: Gorilla, we are sick and tired of sitting in the back twiddling our damn thumbs. Vicious and Delicious get left out of the Southeastern Tag Team Title tournament. Fine, we sucked that up. There are a lot of good tag teams here. But, then, we get left out of the Gulf Coast Tag Team Titles ladder match you announced last week. That's the last damn straw! We want some competition and we want it now. We challenge anyone in the back to come out here and face us.
A few awkward seconds go by. Bagwell goes to speak again and as he starts…the glass breaks! "Stone Cold" Steve Austin walks out to a massive pop. Bagwell crosses behind the table to stand beside Norton. Honky Tonk Man subtly slips out of his seat and away from Vicious and Delicious. Austin picks up the microphone.
SA: I'm sitting in the back. I'm having a beer. I'm having two. Maybe three. Then I hear you out here running your mouth, flapping your gums, talking trash about Stupid and Stupider haven't had any matches yet here in CCW. Well, guess what, neither has "Stone Cold" Steve Austin. I'm fitting to whip some ass. And If I got to take you two on myself, I will. But if somebody back there wants to help me open a can of whip ass on these two sum bitches, get out here.
Austin takes off his vest and slides into the ring. Bagwell and Norton stand on the floor all smiles and pointing fingers at Austin. Obviously, they like the two on one odds. Then…the fans pop anew.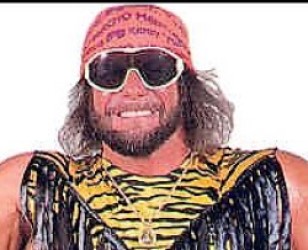 GM: I can't believe my eyes. Austin's request for an ally from the back has been answered and it's been answered by "Macho Man" Randy Savage, one of Austin's opponents for Phoenix Rising.
Bagwell and Norton don't look so confident now. Bagwell backs up to the commentary area again and grabs the microphone.
BB: The two of you want to take us on. You got it……next week!
The crowd boos. Austin and Savage wave Vicious and Delicious to get in the ring.
BB: Hey, we're not going to come out here and face somebody blind. We were looking for opponents for the next show and we'll see you then.
Bagwell spikes down the microphone and walks off with Norton. Austin and Savage then turn and stare each other down in the ring. Savage extends his hand. Austin takes it for a shake. Savage gets a microphone and talks from the ring.
RS: Oh yeah! The "Macho Man" is finally here in CCW. Let's make one thing clear, I've got no love for you Austin. But I've got no hate either. Oh yeah! But just like you I'm tired of sitting in the back waiting for Phoenix Rising to finally get into this ring. So, let's say next week we show Vicious and Delicious some Stone Cold Madness. Oh yeah!
Austin takes the microphone.
SA: If the crowd here would like to see that next week. Give me a hell yeah!
The crowd screams hell yeah and the two men shake hands again as we fade to black
COMMERCIAL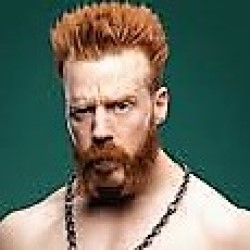 vs.
with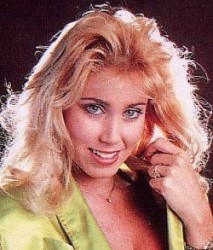 Sheamus vs. Austin Idol with Missy Hyatt
Sheamus is focused and uses his height advantage to press Idol down and into the near corner on an initial lockup. Sheamus works Idol over in the corner with chops and knee lifts. Whip to the opposite corner, but Idol dodges a shoulder tackle and Sheamus posts himself. Idol works the left shoulder with a nerve hold and shoulder breaker. He hammers the shoulder with knee drops on the mat. Idol looks for a piledriver, but Eddie Gilbert comes out and starts jawing at Missy Hyatt. Idol drops Sheamus and goes over to the ropes to yell at him. Sheamus schoolboys Idol from behind with a handful of tights. Idol manages to fight out. He goes to the floor to chase Eddie off to the back. But Idol turns around into a Brogue Kick from Sheamus on the floor. Celtic Cross finishes in the ring.
Winner: Sheamus by pinfall
Sheamus goes over to the commentary position.
Sheamus: I said I was here to get serious and I want some serious competition. I don't care who I get next week. Either Sting or Yokozuna. But I really hope it's Sting, because there would be no more beautiful sound to my ears than hearing all the little Stingers cry when I Brogue Kick their hero's head into the third row.
COMMERCIAL
Vs.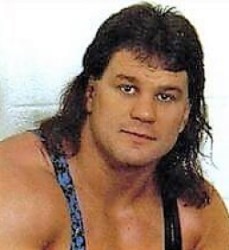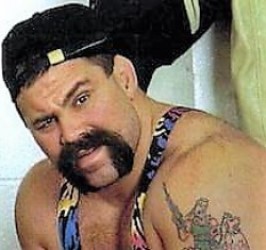 with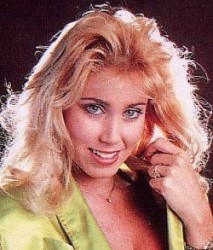 The Natural Disasters vs. The Steiner Brothers with Missy Hyatt
The Steiners are distracted by checking on Missy who is shook up from what happened in the opening match. This allows the heels to control on Rick for most of the match. Double suplex leads to a splash from Earthquake and a pin. One…two…Earthquake pulls Rick up and shakes his head. They're not done with him yet. Tag to Typhoon who goes up to the second rope and comes off with a diving splash. Rick moves and makes the hot tag to Scott. Steiner-Lines for everybody. Mortis and Black Scorpion of Hot Stuff Incorporated come out. Rick goes to the floor to guard Missy. Scott turns to look and is clubbed from behind by Earthquake. Idol and Jimmy Snuka run out to take on Mortis and Black Scorpion. Rick breaks up a pin on Scott. Pier six brawl breaks out as Monsoon calls it. Rick gets a Steiner Drop on Typhoon. Scott comes off the top with a frog splash for the victory.
Winners: Steiner Brothers by pinfall
Missy's Men go over to the announce position. Idol is still breathing hard from his match and beating off the other heels just now.
AI: Eddie Gilbert! I don't want this to go any farther. My time here in CCW won't be marred by you not being over Missy yet. You can say you're done with her. But you're a giant liar. I know it, Missy knows it and everyone in this studio knows it. And deep down, Eddie, you know it. I tell you what, Gilbert, at Phoenix Rising, you leave your stooges in the back, I'll tell my friends to stay away and we'll settle this one-on-one before it even gets started.
COMMERCIAL
vs.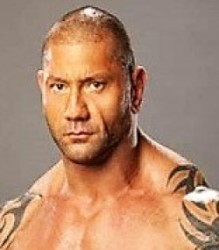 with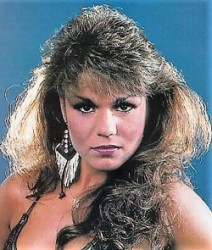 Big John Studd vs. Dave Bautista with Woman
Bautista tries to wear Studd down with a bear hug focused on the lower back. Studd clubs out. He whips Bautista to the near corner, but misses a blind charge. Bautista keeps Studd in the corner and works him over with shoulder thrusts to the lower back. Back to the bear hug. Studd fights out again. He tries to pick Bautista up for a power slam, but his back goes out. Bautista uses his amazing power to hit a back suplex on Studd. John gets up slowly favoring the back, eats a spear and that's it.
Winner: Dave Bautista by pinfall
Ric Flair is out at the commentary position. Bautista and Women both look at Flair as they slowly walk by. Flair just smiles at them.
RF: You're both looking good. Keep it up.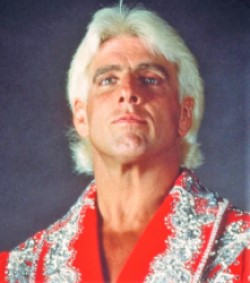 GM: "Nature Boy" Ric Flair. This is your first time here in the Andy Kaufman Studios. We saw your opponents for Phoenix Rising a little earlier.
RF: And I'm happy to be here Gorilla. Especially to see all the ladies asking what's causing all this (Flair flexes). But I'm here to make a challenge Gorilla. As you said, Flair and Savage were out here earlier. They got themselves a match for next week here on Superstar Saturday and I want one of my own. There's one person and one person only here in CCW I want and we saw him earlier tonight.
GM: Please say the Honky Tonk Man.
HTM: Be quiet, Monsoon.
RF: It's the Black Scorpion. Everybody knows I created the Black Scorpion to go after Sting. Why? Because after the ladies and the liquor, the Nature Boy's favorite hobby is screwing with Sting's head. And I know you're watching in the back, Stinger, and I'll get back to you before too long. But, we've got some nobody running around in the mask and cape I threw in the garbage when I got done with it. Nobody and I mean nobody steals from Ric Flair even if it's something I'm done with. And that goes double for a lady. Eddie Gilbert, I've got no beef with you, but you make sure your wannabe Black Scorpion is in the ring to face me next week. You don't want me to have to come looking for you. Woo!
COMMERCIAL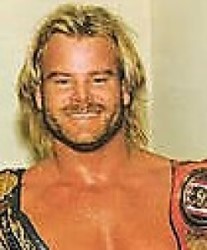 Vs.
with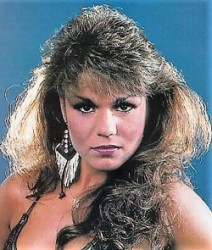 The Midnight Express vs. The Butcher and The Blade with Woman
The Midnight Express become faces by default. Butcher body slams Eaton, but misses a running knee drop. Tags all around. Lane and Blade have a bit of a stand off, but Lane catches him with a judo kick and works a chinlock on the mat. Woman gets up on the apron to distract the referee. Butcher comes into the ring and attacks Lane from behind. Eaton tries to get in the ring, but the ref sees that and backs him off. Double team DDT on Lane gets a two, because the ref was out of position. Lane keeps getting worked over. Butcher puts Lane on his shoulders and it looks like they're going for a Doomsday Device. Lane slides behind Butcher and shoves him into Blade as he comes off the top rope. Hot tag to Eaton. Everybody brawls. Eaton goes up for the Alabama Jam on Butcher, but Woman shoves him while the referee is dealing with Blade and Lane. Blade throws Lane to the floor. Spiked Piledriver for the win.
Winners: The Butcher and the Blade by pinfall
COMMERCIAL
Ronnie Garvin is out at the commentary position
GM: Ronnie Garvin. We didn't get a chance to talk with you last week after the double count out with Big Show.
RG: I was in no position to talk, I'll tell you that, Gorilla. I thought I hit hard, but Big Show packs a wallop.
Garvin is interrupted by Col. Robert Fuller.
RF: You got that right. Nobody hits harder than the Big Show. Not even you…
RG: I never said that. I said Big Show hits hard, but he doesn't have Hands of Stone. Let me show you…
Garvin balls up his fists. Big Show comes from the other way and blindsides Garvin with a big punch to the back of his head. Garvin staggers forward. Show goes for another punch, but Garvin turns and slams a right and left into Show's gut. He grimaces. Garvin advances, but Fuller pulls Show back. He yells "this isn't over Garvin. We just want you to know we can get at you anytime we want."
COMMERCIAL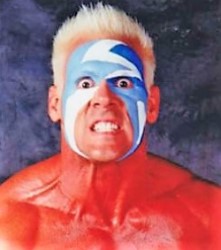 vs.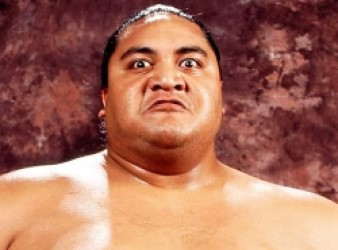 with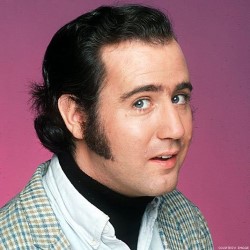 Sting vs. Yokozuna with Andy Kaufman
Yoko wants a test of strength. Sting is happy to oblige. Yokozuna surprises him with a thrust to the throat. Yoko controls with chops and kicks and wear down holds on the mat. Kaufman gloats to the fans. Belly to back suplex sets up the Banzai Drop. Sting rolls to the floor to escape. Sting screams at Kaufman. Sting slaps him in the face to a pop. Kaufman starts screaming about how he's going to sue Sting for touching him. Back in the ring. Sting slings Yokozuna into the corner. Stinger Splash. Yoko wobbles. Second Stinger Splash. Yoko wobbles a bit more. Third Stinger Splash. Yoko goes down on his face. Sting locks in the Scorpion Death Lock, but he doesn't have it good since Yoko's legs are so big. Kaufman gets on the ring apron, still screaming. Sting gets into Kaufman's face. Yoko gets up and tries to run into Sting, but he moves. Yoko knocks Kaufman off the apron. Sting collars Yoko and runs the ropes for a springboard bulldog. He covers.
Winner: Sting by pinfall
COMMERCIAL
Andy Kaufman is holding his neck and is ranting and raving at the commentary position as we come back from break.
AK: Sting laid his hands on me! He has no right to do that! This is not over! I will see you in court my friend! Nobody lays their hands on Andy Kaufman!
Kaufman runs off.
HTM: Sting wins here tonight, but he might have lost in the long run.
GM: We'll have to see, Honky. But, next week it will be the finals of the upper half of the CCW Southeastern Heavyweight Title Tournament as Sting takes on Sheamus. The winner will have to face Dave Bautista at Phoenix Rising. And we already know the Southeastern Tag Team Tournament Final for Phoenix Rising on Aug. 9 as the Butcher and the Blade with Woman meet The Steiner Brothers with Missy Hyatt.
HTM: And speaking of that harlot. I've been told that Eddie Gilbert vs. Austin Idol with all seconds banned from ringside will happen at Phoenix Rising too.
GM: But that's several weeks off. Be here next week where other announced matches include Ric Flair vs. the Black Scorpion and Randy Savage and Steve Austin vs. Vicious and Delicious. We'll see you then.
All rights reserved. Andy Kaufman Enterprises. 1980-something.