Post by Leo on Jul 18, 2020 9:06:10 GMT -5
CCW Superstar Saturday on SCA, Episode 2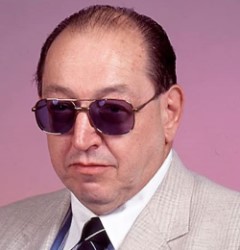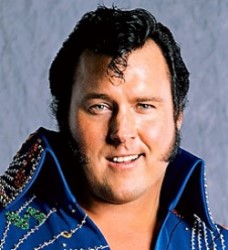 The camera pans the cheering fans in the studio before going over to the announce position with Gorilla Monsoon and Honky Tonk Man.
GM: Good morning, ladies and gentlemen, welcome to the second episode of CCW Superstar Saturday. We'll be seeing the second half of the first round of tournaments to crown a new Southeastern Heavyweight and Tag Team champions.
HTM: And at the end of the show we'll have a special announcement about two more titles being revived at our first Super Show, Phoenix Rising on Aug. 9.
GM: But, for now, lets go to the ring.
vs.
with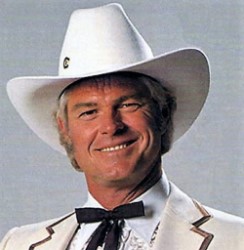 "The Man with the Hands of Stone" Ronnie Garvin vs. The Big Show with Col. Robert Fuller
Garvin is not used to being in the ring with someone bigger and stronger than him. Ronnie goes straight at Show to start, but is beaten down and tossed around the ring. Show sets up for a choke slam, but Garvin elbows out. He starts working the legs to get Show off his feet. Big Show goes down to one knee. Garvin comes off the ropes and jumps with a Superman Punch. He comes down as Show comes up with a punch of his own. Both hit their mark right on the chin of the other man. Both go down and the referee is forced to count both men out.
Winner: Double Knockout
Col. Robert Fuller gets into the ring and helps to revive Big Show. He then rushes over to the announce position, all flummoxed.
RF: This is a travesty. This is ridiculous. This is part of the Southeastern Heavyweight Title tournament. There must be a winner and I demand this match restart right now.
GM: Well, colonel, a double count out is a perfect legitimate ending. Sometimes these things happen…
RF: These things happen! THESE THINGS HAPPEN! You say that when a tornado whips through a redneck trailer park. Not when the CCW Southeastern Heavyweight Title is on the line.
Show comes over at this point, rubbing his jaw and seeming still out of it.
GM: Well, you could always protest to your brother and CCW owner, Ron Fuller.
RF: Uh…no…no…we don't have to get my brother involved here. All I'll say is this for now. Ronnie Garvin, this isn't over. But when it is, you will know who the man with the real hands of stone is.
Fuller leads Show off. The camera shows Garvin getting up in the ring, still dazed himself.
COMMERCIAL
with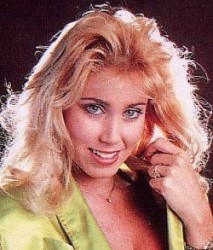 Vs.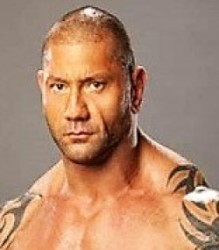 with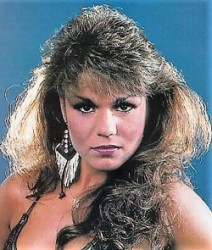 "Superfly" Jimmy Snuka with Missy Hyatt vs. Dave Bautista with Woman
Snuka uses his superior speed to stick and move on Bautista. Dave can't catch Snuka and he's starting to get frustrated. Woman on the outside advances on Hyatt and talks trash on her. This leads Snuka to leap to the floor to back Woman off. Bautista then comes off the apron with a double axe handle to Snuka's back. Bautista then shoves him into the ring. Back in the ring, Bautista continues the beat down. He sets up for a DVD, but Snuka slips behind Bautista while hooking his head and nailing an impressive inverted suplex. Snuka goes up top for the Superfly Splash. However, Bautista was playing opossum and pops up to spear Snuka right out of midair. Bautista covers.
Winner: Dave Bautista with Woman by pinfall
Woman and Bautista goes over to the announce position.
Woman: Missy Hyatt needs to learn her place as does Miss Elizabeth. This Woman is THE woman here in CCW and I'll prove it when my men have the Southeastern Heavyweight and Tag Team titles around their waists. I like my men big, strong, silent and with a lust for not just me, but blood. Get in our way and pay the price. Now, if you excuse me, I have another match to win and two more men to have crushed for my pleasure.
with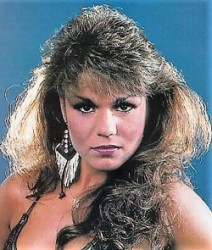 Vs.
The Butcher and the Blade with Woman vs. American Alpha (Chad Gable and Jason Jordan)
Butcher and Blade isolate Gable and work him over for most of the match. Butcher goes for a powerbomb, but Gable hits a hurricana to get out of it. Blade rushes in, but eats a flying head scissors. Hot tag to Jordan. Jordan blitzes both men, but he walks into a clotheslines that almost takes his head off by Butcher. A spiked powerbomb finishes.
Winners: The Butcher and the Blade with Woman by pinfall
COMMERCIAL
vs.
with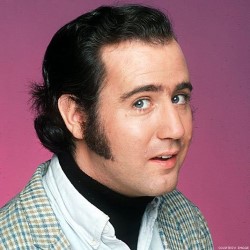 Big John Studd vs. Vinnie Vegas with Andy Kaufman
Studd and Vegas stare down to start. Vegas wants a test of strength and Studd is happy to oblige, but takes a cheap shot. Vegas works him over. He does the big boot choke in the corner. He whips Studd to the opposite corner and then misses a blind charge. Studd takes over. He gets a big body slam and leans deep into the ropes for the big elbow drop. However, Kaufman pulls the ropes and Studd tumbles to the floor, landing on his feet. Studd advances on Kaufman, but Big Bubba Rogers runs out and clocks Studd from behind. Vegas makes the floor and they beat the big man down, drawing the DQ.
Winner: Big John Studd by disqualification
Kaufman goes to the announce position with Vegas and Rogers behind him.
AK: You might think I'd be upset, Monsoon, but I'm not. You see, we all know that my Yokozuna will win this title tournament. There's no question. So, with that being the case we had one mission out here today. And that was to bring Big John Studd to his knees. Studd is not the giant here in CCW. My bodyguards are. Big Bubba Rogers and Vinnie Vegas.
GM: What about the Big Show?
AK: Are you trying to drive a wedge between me and Robert Fuller, Gorilla?
GM: Not at all, I'm just thinking if you're talking giants…
AK: Do not cut me off when I am talking, Mr. Monsoon. Make no mistake the Bodyguards will be awaiting the winners of the Southeastern Tag Team Titles tournament no matter who it might be. And with my Yokozuna winning the Southeastern Heavyweight Title, the top belts in CCW will be where they belong.
COMMERCIAL
vs.
"Exotic" Adrian Street vs. Paul Burchill
Street offers a handshake to start. Burchill accepts, but Street then pulls him close and looks to be going for a kiss. Burchill decks Street and then pummels him wildly on the mat. Street rolls to the floor to escape. Burchill follows and they brawl wildly.
Winner: Double count out
Referees separate the two. Burchill goes to the announce position while referees hold Street back.
PB: Did you see that? Did you see what that…that…I don't know what to call him that won't get us kicked off the air. You don't touch a man like that. You don't come at me like that. Nobody treats Paul Burchill like some late night bar pickup…
Street has broken loose and comes over. He stands on the other side and gets another microphone.
AS: Hey, don't be so mad, Paula. Let's kiss and make up.
Street puckers up, this enrages Burchill again and he attacks. They fight to the back with referees in tow.
COMMERCIAL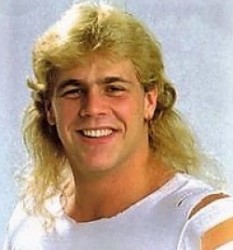 Vs.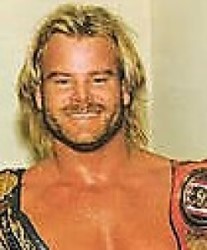 Midnight Rockers (Shawn Michaels and Marty Jannetty) vs. Midnight Express (Bobby Eaton and Stan Lane)
The Express attack at the bell, but the Rockers fight back and whips the two heels into each other. They bounce off and walk into stereo dropkicks. The Rockers use quicks tags to work over Eaton. Eaton gets an eye poke behind the referee's back and tags Stan Lane. Lane uses kicks and chops to work Jannetty over. He taunts Michaels who tries to get in the ring. This allows for the heels to double team Jannetty. Lane goes for a backdrop off of a whip to the ropes, but Jannetty knees him in the mush. Marty tries to tag Shawn, but Stan grabs his foot. He jams Marty's knee into the mat. Tag to Eaton. He continues to work the leg. Eaton locks in a knee bar. Jannetty looks to fade, but rolls it over and makes the ropes. Eaton hits a knee breaker to retain control. The Express set up the rocket launcher, but Marty gets a desperation dropkick to Lane to break it up. Hot tag to Michaels. He fights both men. Jannetty comes in for a double dropkick to Lane. Double dropkick to Eaton. Double suplex to Lane. Double suplex to Eaton, but Marty's legs buckle and they all collapse. Lane drags Jannetty out and keeps him at bay, while Eaton gets a rollup on Michaels with a handful of tights.
Winners: Midnight Express by pinfall
COMMERCIAL
Monsoon and HTM do the outro
GM: We just saw a really exciting match between the two Midnights, Express and Rockers. And while the Rockers did lose, they can have some solace. The tag teams that went out in the first round of the Southeastern Tag Team Title tournament are getting a second chance.
HTM: That's right, Gorilla, I've been authorized to announce a new match for Phoenix Rising on Aug. 9. A four team ladder match to crown new CCW Gulf Cost Tag Team Champions. It's going to be the Midnight Rockers vs. American Alpha vs. Strike Force vs. Badd Company.
GM: Also getting revived at Phoenix Rising will be the CCW Gulf Coast Title. The man getting that will have to win a 15-man battle royal. And while we'll know most of the competitors before Aug. 9. I'm told two will remain a mystery until that time.
HTM: Yes, and I have it on very good authority, one of them will be Eddie Gilbert's new man. Someone whom we've never seen the likes of before.
GM: I've also been told that since we had two matches with double eliminations this week in the Southeastern Title tournament, that Big John Studd vs. Dave Bautista will be the finals for that portion of the bracket with the winner advancing to Phoenix Rising. Also next week we'll have Sting vs. Yokozuna, Sheamus vs. Austin Idol, Steiner Brothers vs. Natural Disasters and The Butcher and the Blade vs. the Midnight Express.
HTM: Plus, the three competitors for the triple threat match at Phoenix Rising will be here in studio for the first time. We'll hear from Steve Austin, Randy Savage and Ric Flair.
GM: A lot of big doings for next week, so be sure not to miss it. We'll see you then.
All rights reserved. Andy Kaufman Enterprises. 1980-something.