Post by Slade on Jul 8, 2020 14:35:51 GMT -5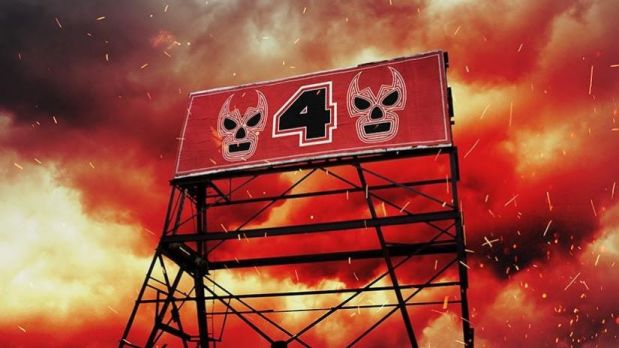 Season 4, Episode 17
From the Temple in Boyle Heights, Los Angeles, California
Commentary Team:
Matt Striker and Vampiro
Ring Announcer:
Melissa Santos
***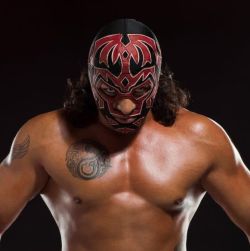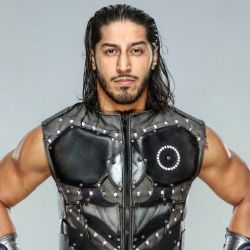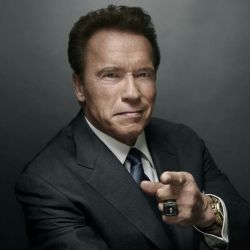 Somewhere far from Los Angeles, sits a large truck stop on the side of an interstate highway. It's late in the evening, the sun has already set. A black Ford Explorer pulls off the highway, into the parking lot and finds a space on the far end of the lot to park. From the vantage point of the front seat of the SUV, we have an unobstructed view of the truck stop entrance and we can see a large portion of the windows in the attached truck stop diner. From there, we see King Cuerno enter the truck stop and take a window seat at the diner.
Mustafa Ali is sitting in the driver's seat of the Ford Explorer. Next to him, in the passenger seat, he opens a laptop and does something to set up an encrypted call on his phone, which he has connected to the laptop. He places a call. Schwarzenegger answers. Ali identifies himself as Agent Alam. Schwarzenegger is happy to hear from him. He wants to know where he is. Alam tells him he's in Arizona, tracking someone he suspected of being involved in the murder of Dario Cueto. But now that Cueto is alive, he suspects he might know where he is. But there's more to this story. He says that, by chance, he witnessed a man dressed in a very expensive suit, flanked by bodyguards, approach his suspect with a envelop full of photos and, presumably, cash. He managed to get a photo of this man and he wants an ID check on him. Schwarzenegger tells him to send it through.
Agent Alam looks down for a moment to execute the photo transfer. When he looks up, he sees that King Cuerno is no longer seated at the table. He tells Schwarzenegger to hurry because he's lost sight of the man he's tracking. Schwarzenegger says he has a positive ID. In fact, he knows this man. He is Secret Service Agent VKM. He has heard a rumour that he is working directly for the President on something very top secret. He tells Agent Alam that he needs to find out what work his target is doing for Agent VKM.
After Alam hangs up the phone, he feels the back corner of his SUV sinking. He opens the door, gets out and walks around to the back-passenger side to find his tire has been slashed. As he gets a good close look at it, he hears the sound of a car door slam shut. He springs up, goes around and finds his door shut. He tries to open it, but it's locked. What's more, his keys, phone and computer are missing. He looks around the lot and sees no one. He looks out towards the pumps and just beyond, he sees the vehicle he's been following ever since Boyle Heights leaving. He looks back and sees a piece of paper under his wiper blade. He opens it up. It says,
"Looks like you're going to be here a while, so why don't you go take a seat at the fourth table by the window. There's a slice of warm apple pie waiting for you. It's on me."
***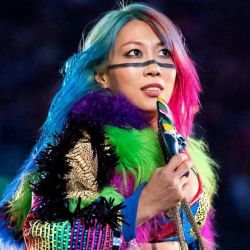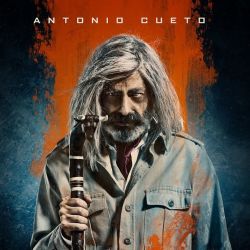 We are a few hours away from the beginning of tonight's show, and joining Antonio Cueto in his office is the Mash-Up Wrestling Women's World Champion. Cueto tells her it is an honour to host her here in the Temple, and this, only a handful of weeks since her last appearance when he successfully defended her title against Shayna Baszler. Tonight, Cueto tells her that she will be the guest of honour and have the best seat in the house for the very special main event. Tonight, will decide which luchadora will challenge her for the title at Ultima Lucha Cuatro. But the decision won't be made in just any match. No, tonight, the Antonio Cueto Luchadora's Cup – which he has sitting on his desk for Asuka to see – will be suspended high above the ring and the luchadora who can climb a ladder and retrieve it will be her opponent at Ultima Lucha Cuatro. Asuka tells Cueto that it doesn't matter who wins because there are no luchadoras who can beat Asuka!
***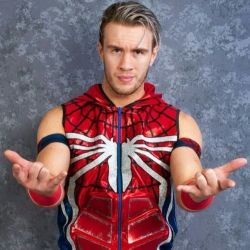 VS.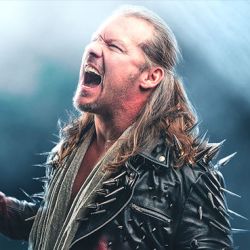 SECOND ROUND ANTONIO CUETO LUCHADORES CUP TOURNAMENT MATCH
Will Ospreay vs. Chris Jericho
This was a great match with which to kick start the show. Ospreay was in peak form. A lionheart Chris Jericho probably wouldn't have even been able to keep up. Throughout the match, Ospreay overwhelmed Jericho with a barrage of kicks, including a spinning wheel, a leg-feed enzuigiri, a dropkick, a missile dropkick, a 540-degree spin, a Marufuji hook, and a Robinson Special. Jericho needed help from Sammy Guevara to retake the advantage. His distraction allowed Jericho to get Ospreay with a running enzuigiri kick and then a springboard dropkick to knock him off the ring apron. After that, he climbed to the top turnbuckle and executed a diving double axehandle to the outside of the ring. Sending him back into the ring, Jericho stomped on his lower back and went through a series of backbreakers before flipping him over into the Walls of Jericho. He had Ospreay trapped in the hold for half a minute before he reached the ropes for a rope break. A complaint to the referee gave Guevara the chance to land a cheap shot in on him.
A few moments later, the Street Profits came down and chased Guevara off, but then Santana and Ortiz showed up and they got into a brawl. Back in the ring, Jericho executed a one-handed bulldog takedown and then went for the Lionsault, but he landed on Ospreay's knees. After Ospreay got up, he executed an Essex Destroyer and then a standing shooting star press and went for the pin, but Jericho kicked out. After that, Ospreay executed a handspring roundhouse kick and then a snap suplex. Then, jumped out of the ring and took down the group of brawlers with a Sasuke Special. He quickly got up and started climbing the turnbuckle. Sammy Guevara returned and grabbed onto his leg. The time it took Ospreay to shake him off enabled Jericho to get up. When Ospreay went for the diving crossbody, Jericho pulled him into a Codebreaker! Then, he pinned him for the win.
WINNER : Chris Jericho
***
VS.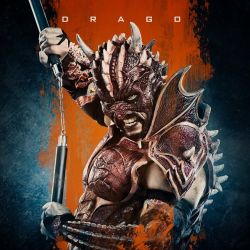 SECOND ROUND ANTONIO CUETO LUCHADORES CUP TOURNAMENT MATCH
Pentagon DARK vs. Drago
Drago seemed a bit more menacing than he was the last time we saw him. Even so, Pentagon DARK was one of the more menacing luchadores in all of Lucha Underground, so that did not phase him. Drago gave him many arm drags, dropkicks, headscissor and hurricanara takedowns. He tried to force Pentagon to submit with a bow-and-arrow submission hold, but none of this did much to Pentagon, who when he was on, went at a slow pace, but struck fast, with soccer kicks to the calf, open-palm chops to the chest, and a few superkicks thrown in for good measure. Pentagon even tried to make Drago submitted with a Mexican surfboard. After about eight minutes, Pentagon struck with a pair of slingblades. Kobra Moon tried to interfere on Drago's behalf, but she received a Mexican destroyer on the ring apron! Moments later, Pentagon countered an attack into a double-knee backbreaker and then executed a Pentagon Driver. 1-2-3!
WINNER : Pentagon DARK
***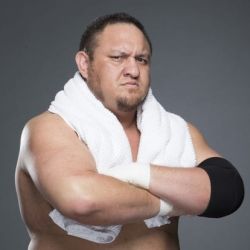 VS.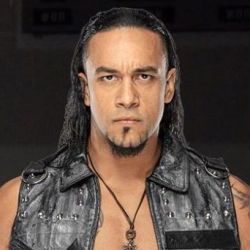 SECOND ROUND ANTONIO CUETO LUCHADORES CUP TOURNAMENT MATCH
Samoa Joe vs. Damien Priest
The final tournament contest of the evening saw the Samoan Submission Machine go head-to-head with the Archer of Infamy. It started out with both luchadores working a variety of holds. Technique gave way to stiff striking, and on that front, they seemed evenly matches. When Priest bowed out to break Joe's momentum, the big man dove through the ropes to take him down with a topé suicida. He then gave Priest an exploder suplex out on the floor and returned him to the ring to work over different limbs and joins with a variety of submission holds.
Priest was tough and wouldn't submit. A few times, he dragged himself to the ropes to force rope breaks. He turned the tide when Joe was peppering him with a combo of strikes. Joe went down and tried to trip him with a leg sweep kick, but Priest hopped over it dropped Joe with a roundhouse kick. Priest built some momentum with strikes and clotheslines, and when Joe left the ring, he went over the top rope and landed on him with a tope con hilo. Back in the ring, Priest tried to go for The Reckoning, but Joe blocked and countered with a snap suplex. He tried to apply the Coquina Clutch, but Priest scrambled over to the ropes. Catrina met him and went to hand him his nightstick, but then Mil Muertes came out from under the ring and snatched it in the middle of the exchange.
Without it, Priest could not prevent Joe from going through to the next round. He tried to hit Joe with a scissors kick, but he moved out of the way. Then, Joe executed his German suplex, dragon suplex, and X-plex trifecta of suplexes and then applied the Coquina Clutch with a body scissors to prevent him from escaping. Priest refused to give up. He even made an attempt to get up with Joe on his back but collapsed under the weight and from a lack of oxygen. Priest passed out and the referee stopped the match.
WINNER : Samoa Joe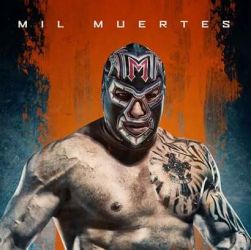 After the match ended, Mil Muertes, who had left, returned pushing a coffin with the painted likeness of Catrina on the lid out towards the ring. Catrina went over to the play-by-play table and swipped Matt Striker's bottle of water, entered the ring and emptied it in Damien Priest's face to wake him just as Mil Muertes got to the ring. They left the ring from the other side and scrambled up the Temple stairs as Mil Muertes climbed in the ring, bent down and placed his hand down on the Aztec crest.
***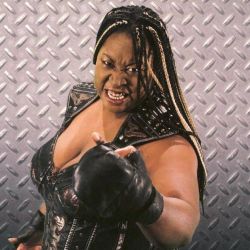 VS.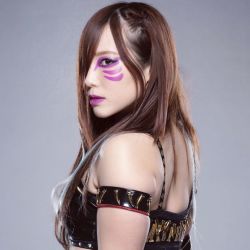 VS.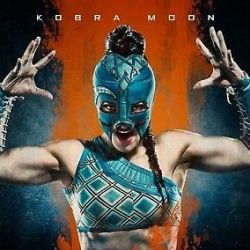 VS.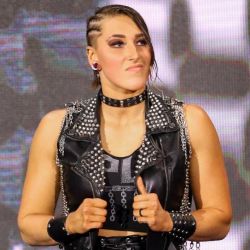 VS.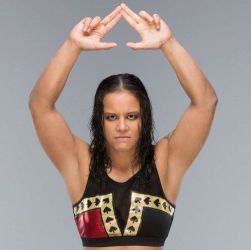 VS.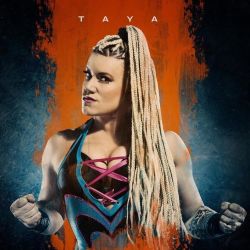 LADDER MATCH FOR THE
ANTONIO CUETO LUCHADORAS CUP
Awesome Kong vs. Kairi Sane vs. Kobra Moon
vs.
Rhea Ripley vs. Shayna Baszler vs. Taya Valkyrie
Before the match began, the Mash-Up Wrestling Women's World Champion, "The Empress of Tomorrow," Asuka entered the Temple and hooked a carabiner around one of the ornamental handles of the ceremonial golden cup trophy that would be the prize of this match. That wasn't the only prize though. For climbing a ladder and removing the trophy from the carabiner to which it was hooked, the winner of the trophy would receive an opportunity to challenge Asuka for her title at Ultima Lucha Cuatro. After the trophy was raised some 15-16 feet above the ring, Asuka went up to the band platform above the floor entrance and sat in the best seat in the house to watch this match.
The six luchadoras vying for the cup and the title shot were relentless. Many ladders were brough into play. Some highlights include Kobra Moon performing a diving springboard hurricanrana to the outside of the ring on Baszler, sending her into the side of a standing ladder; Taya taking Kairi Sane off a ladder, down to the mat with a sit-out double chickenwing facebuster; Baszler pulling Rhea Ripley's legs through the rungs of a ladder to put her in an inescapable ankle lock; Awesome Kong giving Kobra Moon an Awesome Splash as she was layed out on the ladder; Ripley giving Taya her finisher, Riptide, from the ring apron onto a bed of ladders; and Sane climbing to the top of a tall ladder and executing an Insane Elbow on Kong as she was layed out on a ladder that had been bridged between some ladder rungs and the middle rope.
Everyone made at least one attempt to climb the ladder to get the cup. Baszler and Ripley were throwing fists at each other as they tried to get the cup, but Kong used her power to tip the ladder over and send them crashing down from way up high. It looked like Kong was in good position to get the win, but Kobra Moon and Taya lifted the other side of the ladder up and tipped it over so that Kong fell on her back. As they fought with each other, Sane climbed the turnbuckle and then knocked them both off their feet with a double single-leg missile dropkick. She gave Kobra Moon the Sliding D and then ducked an attack from Taya and gave her an Alabama Slam onto the collapsed ladder that was on top of Kong. Sane found another ladder, set it up and climbed. Kobra Moon went up and they fought at the top, with Sane slamming Kobra Moon's face off the ladder and shoving her down to the mat. Then, she grabbed Antonio Cueto Luchadoras Cup and removed it from the hook to win the match.
She celebrated on the ladder by hoisting the trophy in the air, as Asuka stood up from her chair and clapped for her friend. They made eye contact and appeared to be calling out to each other in the spirit of friendly competition. At Ultima Lucha Cuatro it will be Asuka vs. Kairi Sane for the Mash-Up Wrestling Women's World Championship.
WINNER : Kairi Sane
***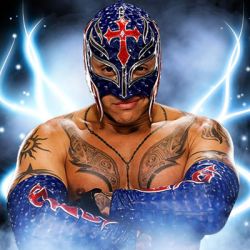 In the heart of Mexico City, Rey Mysterio Jr. hobbles on crutches off a busy street and down back alley to the entrance of a nondescript white brick building with a handful of windows that have metal bars criss-crossing over them. He enters the building. There is a long narrow hall that turns to the right and ends in a large lucha libre training center. There are many luchadores learning the ropes here. One luchador grappling with a partner pulls away and points as he calls out Mysterio's name. Every stops what they are doing. They cannot believe they are now in the presence of a legend. One trainer asks to what they owe the honour. He says he needs to speak to
El Presidente
about an urgent matter. The trainer tells him that there is no one by that name here. Mysterio produced a white card with a large letter M printed on it in special stylized font. The trainer takes the card and changes his tone. He walks Mysterio past all the rings filled with training luchadores to an elevator. When it opens, it tells Mysterio to take it to the third floor, so he does. He gets off the elevator into a large office filled with trophies, title belts, leather furniture, frame photos of special moments from lucha libre history, and other assorted mementos. Mysterio looks straight ahead and says that he has come looking for the best in the world to form a trio of luchadores to defeat a group of sports entertainers threatening to wipe lucha libre off the face of the planet. The other luchador asks, who are these sports entertainers. Mysterio tells him: Roman Reigns, John Cena, and Hulk Hogan. It is that last name that piques his interest.
"Hulk Hogan is a scourge. He cannot be allowed to destroy lucha libre. I will not let it happen. So, yes, I am in."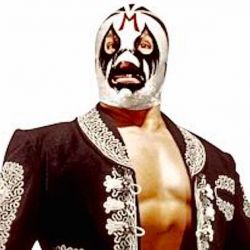 It is Mil Mascaras!
***