Post by MadStepDad on Apr 20, 2017 9:44:11 GMT -5
Broken City Championship Wrestlingby MadStepDad
** BCCW has 6 recognized championships **
Heavyweight (225 lbs +)
Middleweight (205 lbs +)
Flyweight (under 200 lbs)
Television title (catch weight)
6-Man Tag Team titles
Woman's Championship
** BCCW recognizes the
Undisputed WORLD Championship
as governed by the Mash-Up Wrestling Board of Trustees **
** All matches sanctioned by Mash-Up Wrestling. **
** THIS IS BCCW!! **** RINGSIDE COMMENTARY TEAM **MSD & "Duke of Dorchester" Pete Doherty
w/ Commissioner Foley
& Backstage Correspondent / Postfight Analyst: Renee Young!
BCCW TV Episode #95 (Marathon Monday)
[click here]
NOW!...
BCCW "Fight Night 4:20"
Agganis Arena, Boston, MA
Attendance: 7500
It's 4:20! The official stoners holiday is always one of supreme importance in BCCW! This year it's been made even more epic with the passing of legal recreational. Now it's Dab Street in Wax City all day. Deep in Shatter County with a brief detour down Flower Blvd. All aboard the Edibles Express! We're making one more pass through Beantown on our way to Canada for our next PPV spectacular, "City of Champions!" The one night per year when ALL the Championships must be defended! It's all-gold-everything in Canada this year! Stay tuned and blaze one up for your homie!!

TONIGHT! Russell Westbrook finishes the NBA Season averaging a Triple Double - and reigning BCCW Heavyweight Champion "Superstar" Billy Graham sends his regards! Superstar makes his own grab for glory at "City of Champions" as his #1 Contender will be revealed tonight! On this same night, the Cleveland Cavaliers erased a 25-point halftime deficit in their 119–114 victory over the Indiana Pacers, the largest such deficit overcome in NBA playoff history. American Alpha hopes to overcome that same kind of deficit tonight when they seek a Title Rematch against Beer Money intl! All that and more! Stay tuned!
** CUT 2 COMMERCIAL **
________________________________________________________________** SHOW-OPENING INTERLUDE **
Hard cut backstage where paramedics and officials are scrambling about tending to an unconscious BRIE BELLA! Poor Brie was apparently the victim of a heinous unseen sneak-attack! Finally her twin sister NIKKI comes roaring into the scene, screaming for the culprit. Eventually MICKIE JAMES filters onto the scene to comfort Nikki and swear further vengeance against the mystery culprit. Who struck down Brie Bella!?!?
-- cut to ring --
American Alpha (Jordan/Gable/Benjamin) def. Love Bros
[Impromptu BCCW 6-Man Tag Team Bout]

Reigning BCCW 6-Man Tag Team Champions,
BEER MONEY INTL ©
are in the ring for another inflammatory promo - this one disparaging Medical Massachusetts. Finally
American Alpha
emerges to cease the nonsense and challenge for the 6-Man Tag Team titles right now! But before they can, we are interrupted by the Entrance & Theme of the
LOVE BROS
(Hartford & Reginald Love + JCW Weedman)! The humorous hippie tag-team is throwing another protest, but their antics only wind up turning them against the crowd - and the Love Bros *SMASH* American Alpha from behind with their protest signs! Beer Money Intl leaps for joy and quickly joins the Announce Table for the official tag team skirmish. Love Bros have the advantage early from their sneak attack, but things quickly turn around when Jason Jordan tags in. Suplex! Suplex! Suplex! Pier-6 donnybrook erupts - Alpha clears the ring in dominant fashion - and Shelton Benjamin pins Weedman with a T-Bone suplex off the top rope! American Alpha are fed up with the tomfoolery and shenanigans! They want their Title shot, and they're gonna get it at "City of Champions" in Canada!
** BCCW 6-Man Tag Team Titles **
Beer Money Intl © vs. American Alpha
-- cut 2 commercial --
________________________________________________________________** BACKSTAGE INTERLUDE **
Cameras catch an irate Nikki Bella confronting her enemy ALEXA BLISS over the mystery attack that took out Brie Bella earlier in the show! Mickie James can be seen alongside Nikki and egging her on. But Lil Ms Bliss denies all culpability, and suggests Nikki Bella look towards the ring to seek her answer... STAY TUNED! Mash-Up Wrestling Woman's Champion is in the BCCW building after so long!!
-- cut 2 commercial --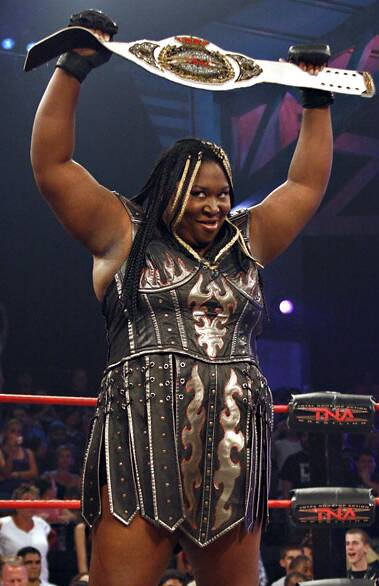 AWESOME KONG © def. Mistress Belmont (w/ The Sisterhood)
[Non-Title Woman's Bout]
After all the hype and critical acclaim, the infamous AWESOME KONG © is back in a BCCW ring tonight! The record-setting 5x Champion is coming back to defend her crown one more time at "City of Champions" in Canada, the one night where ALL the Titles are on the line! Tonight is a pure squash-match victory for Kong, and she looks dominant doing it! But postmatch, Awesome Kong is answered by a furious Nikki Bella (+ Mickie James) who accuses Kong of the attack on her sister and challenges her for the title in Canada! Nikki & Mickie team-up to eventually send Kong scrambling, and look like a formidable tandem so that if they can maintain this chemistry at "City of Champions", Nikki Bella will have a chance to walk out of Canada with the Undisputed Mash-Up Wrestling Woman's Title!!
** Woman's Championship **
Awesome Kong (2010) © vs. Nikki Bella (2016)
-- Only @ City of Champions! Stay tuned! --
** cut 2 commercial **
"Amnesia Matt"
-- cut 2 commercial --
________________________________________________________________Dirty Rotten Nasty def. The New Day
[Impromptu 6-Man Tag Team Brawl]
The New Day Entrance & Theme to address their beatdown at the hands of D.R.N. and provoke another attack tonight! Watch out! Here come those trenchcoat-wearing, steel chair-swinging freaks right now! Once again things quickly spiral out of control as the crowd hyperventilates over the non-stop action, stunt bumps and chair shots! WHAM! WHAM! WHAM! Big E Langson is flattened and ultimately the fans chants for "WE WANTS TABLES!" is answered when Xavier Woods gets powerbombed through one in the middle of the ring! Classic ECW-style clusterfuck that has the fans screaming "BCCW! BCCW! BCCW!" Meanwhile, The New Day is being sent packing from BCCW with their tail between their legs! It's a NEW DAY in the BCCW 6-man Tag Team division! Beware!
"D.R.N." = Dirty Rotten Nasty
[Nasty Boyz (Knobbs & Saggs) + ECW-era Axl Rotten]
-- cut 2 commercial --
________________________________________________________________"Respect Earned"
AJ Styles address ex-BCCW GM Shane McMahon after their hellacious encounter at BCCW Fallout Festival. Mutual respect has been earned between the two men, but that doesn't change the fact that Shane's resignation is still under review and BCCW in probation as a partial result of these actions. But true Warriors know all battles are won in the middle of the ring, not some courtroom somewhere. Shane promises to never let his evil sister Stephanie siphon the magic from BCCW like she did the WWE!
-- cut 2 commercial --
________________________________________________________________** Flyweight #1 Contender Bout **
Kerwin White (2005) def. "Lone Wolf" Davey Richards (2017)
Real story of the bout takes place between Davey Richards and his wife Angelina Love who have taken on aspects of the old Angelina Jolie/Billy Bob Thornton relationship. Davey is control most of the bout over the humorous (yet very capable) BCCW babyface Kerwin White, until Davey's old-partner turned arch rival Eddie Edwards (with his wife Alexxis Nevaeh) make the attack! Kerwin White winds up pinning Davey and earning the title shot, but the feud between ex-American Wolves partners (and their WIVES) is far from finished! Stay tuned!
** BCCW Flyweight Championship **
Finn Balor (2016) © vs. Kerwin White (2006)
-- Only @ "City of Champions!" Stay tuned! --
-- cut 2 commercial --
________________________________________________________________"Superstar Lifestyle"
Entrance & Theme of reigning BCCW Heavyweight Champion
"Superstar" Billy Graham ©
and his entourage, for another vain celebration. But mid-way through the platitudes and gratitude, Graham is finally cut off by a very familiar theme song! Enter JOHN CENA (2017!)
John Cena
for the sizzling microphone retort that puts SuperCena right back at the front of the championship hunt! Cena finally gets his title rematch against Graham at "City of Champions!" Graham is irate and claims conspiracy! The Boston fans want another championship for their city! Graham's "Californication" entourage gets dismantled by Cena in a flurry of physical activity, that culminates with Cena sticking Graham with a huge FUAA in the center of the ring! Cena is going to Canada and coming out the new BCCW Heavyweight Champion! Because the real champ is HEEEERRRREEEE!!!
** BCCW Heavyweight Championship **
"Superstar" Billy Graham (1977) © vs. John Cena (2017)
[Grudge Match]
-- Only @ "City of Champions!" Stay tuned! --
[Fade Out]
________________________________________________________________