Post by fifthhorseman on Jul 9, 2014 23:45:20 GMT -5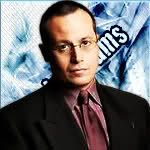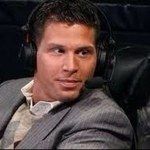 Joey Styles:
We are live from the Alliant Energy Center in Madison, Wisconsin! My name is Joey Styles, and for the next two hours, you will be hearing my golden tones as we present to you AWA Wednesday Night Warriors! And what a main event you will be seeing tonight! The AWA Television champion, the dominant Great Muta, defends his title against not one, not two, but THREE men in an Ultimate-X match! Chris Sabin, Alex Shelley, and Petey Williams – gentlemen, you all get a shot at the gold! That ought to be a great one, right, partner?
Josh Mathews:
I'm sure it will be, partner! Hello wrestling fans, I'm Josh Mathews, and thank you for tuning in tonight! You'll also see an AWA Intercontinental championship rematch from the Crockett Cup, as Scott Hall looks to successfully defend the title against the Monarchy's Nigel McGuinness! In tag-team action, Harlem Heat battles the Dudebusters – and that's not all, as the Midnight Express take on Barry Windham and Rick Martel! Dick Murdoch squares off against Verne Gagne! And last but not least, one-half of the AWA Tag-Team champions, "Dr. Death" Steve Williams gets in the ring against one of the HoRsemen, and one of the men he'll be facing at WrestleRock, James Storm!
Joey Styles:
Let's get to the ring and Christy Hemme – it's time for Ultimate-X!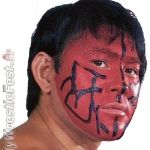 /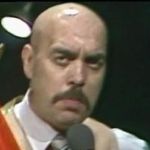 vs.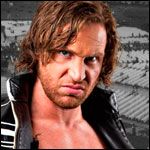 vs.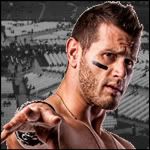 vs.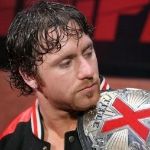 The Great Muta [C](w/Gary Hart) vs. Chris Sabin vs. Alex Shelley vs. Petey Williams:
Though Muta betrayed no emotion, his manager was seething as the Television title was suspended on the cables. Styles and Mathews noted that between the three TNA mainstays, they had won 14 previous Ultimate-X matches. They also mentioned that the Midnight Express and the Motor City Machine Guns were indefinitely banned from any physical contact with each other.
When the bell rang, the four men brawled in the center of the ring, and Muta and Williams became ersatz tag partners, fighting against the Guns. For the first few minutes, it was in fact fought like a Texas Tornado tag match, with very few attempts at climbing up the turnbuckles. Eventually, though, it settled into an action-packed, aerial, triple-teaming affair that saw different alliances form – even Sabin and Shelley briefly (and cleanly) fought above the ring.
Hart watched the clock intently outside the ring; being an AWA TV title match, there was a 15-minute time limit. As such, at about the 10-minute mark, Muta utilized a defensive style: happy to immobilize people on the mat with nerveholds on the mat and throwing them outside, amongst other things. Shelley, Williams, and Sabin broke out various signature moves at breakneck speed, and every time one of them got close to the belt, someone was there to stop them.
With the crowd on its feet and a minute left in the match, Williams hit the "Canadian Destroyer" flip-piledriver on Shelley, but was immediately hit by the "All Hail Sabin" sitout slam. Sabin kept moving, and climbed a turnbuckle. Muta responded, and floated up the opposite turnbuckle and began the slow crawl, upside-down, across the cables. He met Sabin in the middle, and they exchanged punches mere inches from the championship belt. But as the Machine Gun reared back for one more strike… he was misted by the Great Muta! Blinded and in pain, he fell straight down, allowing the champion to re-take his title at the 14:55 mark.
COMMERCIAL
vs.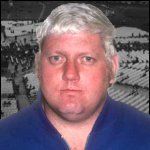 Verne Gagne vs. Dick Murdoch:
As one might suspect, this match had "old school" written all over it. Both men fought cautiously, testing each other with mat maneuvers and simple tests of strengths. Despite their outward appearances, Gagne was deceptively strong – and Murdoch, very quick and skilled. "Captain Redneck" used a series of punches and kicks to take control, and tried to fight his way to a win. But the Olympian Gagne fought back, and used a combination of kicks, throws, and "dirty boxing" to turn the tide. After one more brief rally by Murdoch, Gagne finished him off with a rolling bridge pin.
After the contest, Gagne borrowed the microphone from Hemme. "First of all, I want to thank all the fans for coming out tonight… but now, let's get down to business. Last week, Edge came out here and issued an open challenge for WrestleRock 2014. Well, Mr. "Rated-R Superstar", it just so happens that I don't have a match lined up with anyone that night either. And I know that you bring quite the credentials into any wrestling match you're in, what with those 11 World championships you earned. That's a lot – heck, that's even more than the ten AWA World titles I earned a while back. So why don't we just meet in the middle of the ring on July 20th, you and I, and show these great fans who the better man truly is?"
As Gagne left, a video package was shown to promote WrestleRock 2014.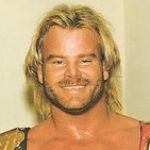 /
vs.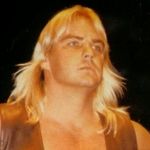 The Midnight Express (w/Jim Cornette) vs. Rick Martel/Barry Windham:
The Express entered the ring first, and Cornette personally handled the ring introductions for his crew. As Windham and Martel jogged to the ring, Styles reported that he hoped to have details concerning the Express and the Guns before the match ended.
Windham and Eaton started the contest, and the two smoothly wrestled and counter-wrestled each other with armdrags, hiptosses, and other perfectly executed moves. Ditto for Martel and Lane – and indeed, any combination of the four. The quartet mixed the simplicity and story-telling of the Gagne/Murdoch match, but at a tempo more like the Ultimate-X match. Eaton and Lane dominated for long stretches, thanks to year of teaming together, but face-in-peril Windham valiantly made the tag to the Canadian. Martel exploded into the ring, hurling both members of the Express around the ring. He locked Eaton in his patented Boston crab, but as the referee physically separated Windham and Lane outside the ring, Cornette smashed Martel in the back of the head with his tennis racket. The official missed it, and Lane covered Martel for the shady win.
COMMERCIAL
Joey Styles:
Well, it wasn't a clean victory, but the Midnight Express will be heading into WrestleRock 2014 with some momentum. The championship committee has just confirmed that Bobby Eaton and Stan Lane WILL meet – as hoped! – the Motor City Machine Guns. But that's not all! The World's Greatest Tag-Team, comprised of Shelton Benjamin and Charlie Haas, will take on Harlem Heat at WrestleRock! Both matches will be contested under "Beat the Clock" rules, and whoever wins their match the fastest will get an AWA Tag-Team championship match in August! But now, let's send it down to the ring, and the one and only Lance Russell!
Lance Russell was in the middle of the ring, and he introduced the AWA Heavyweight champion, Daniel Bryan, to the ring. The big question – what did MUW World champion, Steve Austin, say to him at the Crockett Cup? Bryan replied, "That was a private conversation, Lance, and I'm not sure that Steve Austin would want me speaking for him. I will say this, though – it's no secret that Austin is a pretty intense guy. And he's been on quite a roll the last couple of months, doing whatever he pleases, wherever he pleases. So, suffice to say he just wanted to let me know that he heard me when I said I wanted a shot at the MUW World title. And I still do. And I'll just leave it at that."
Russell then asked Bryan how he was feeling heading into WrestleRock in less than two weeks, and was he prepared to meet Big Van Vader again with the AWA Heavyweight championship on the line. The "American Dragon" smiled and said, "I haven't ducked any challengers yet, and I don't intend on starting now. If the championship committee puts Vader, or Edge, or the Great Muta, or anybody else in the ring with me, I'll take care of business. So yeah, I'm ready. In fact – and you heard it here first, fans – next Wednesday night, I'm tagging up with a man who knows Vader very well, the "Beast from the East", Bam Bam Bigelow. And it's us against Vader and Mike Awesome. Call it a tune-up match, call it a scouting mission. I'm not waiting until July 20th to fight Vader."
/
vs.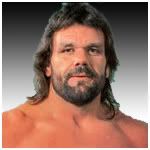 /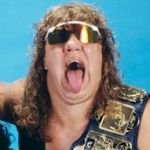 James Storm (w/JJ Dillon and Robert Roode) vs. Steve Williams (w/Terry Gordy):
This match was somewhat of a preview of the MVC-Beer Money title match in two weeks, and Mathews told the audience that next week's television show would see a match between Gordy and Roode. From the opening bell, "the Cowboy" and "Dr. Death" wrestled a very physical match. Obviously, the two could mix it up with the best of them, and Storm even showed flashes of his high school wrestling base, just enough to impress Doc. But Williams combined his All-American wrestling acumen with a 50-pound weight and power advantage, and he blasted through Storm's offense with shoulder-tackles, clotheslines, suplexes, and slams. Storm came back with a well-place superkick, and tried a second that Williams swatted away. Caught off-balance, Storm was taken down for the three-count via Williams' "Doctor Bomb". After the match, Beer Money slunk away with their manager, while the Miracle Violence Connection celebrated in the ring.
COMMERCIAL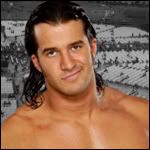 vs.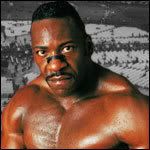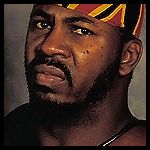 The Dudebusters vs. Harlem Heat:
The slick duo of Barreta and Croft entered the ring first, followed by the multi-time WCW tag champs, who Styles noted were in a bit of a funk, specifically mentioning their Crockett Cup draw with the Koloffs. Perhaps they heard him, and wanted to prove Styles wrong: after Booker T withstood an opening flurry from the Dudebusters, he took charge with his unique brand of high-impact offense. Tagging in his brother, Stevie Ray muscled Croft around the ring, using clotheslines and bodyslams to batter his smaller foe. Barreta momentarily broke it up, but Booker knocked him to the floor with a roundhouse kick. One last tag, and Booker hit his top-rope "Harlem Hangover" somersault legdrop on Croft. Three seconds later, Harlem Heat had their hands raised in victory. Speaking directly into the camera, they let it be known that the Midnight Express, the MVC, Beer Money, and any other team that got in their way was going down the same way.
A promotional video pacakge was shown, showcasing the rivalry between Magnum T.A. and Tully Blanchard, iwth footage from their bitter NWA feud interspersed with more recent AWA drama.
Joey Styles:
Fans, I've just been informed that Tully Blanchard, J.J. Dillon, and Magnum T.A. have been exchanging contract proposals for WrestleRock. The two sides have not, as of yet, been able to even sit in the same room together! As soon as we get more information – whether that's tonight or any time before July 20th – we will let you know! And coming up next, our main event: Hall versus McGuinness!
COMMERCIAL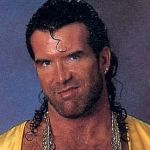 vs.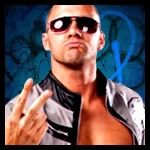 /
Scott Hall [C] vs. Nigel McGuinness (w/Layla El):
Halfway down the ramp, the challenger paused, and the rest of the Monarchy – William Regal and Wade Barrett – joined him. As they all entered the ring, Hall made his way down, and when he got to the ringstairs, he also paused. Seconds later, Diamond Dallas Page and Bam Bam Bigelow made their way to the squared circle. Page showed the referee his manager's license, dating back to his WCW days when he managed the "Diamond Studd".
Despite the Monarchy's protestations, everyone stayed, Hemme made the big-fight introductions, and the rematch was on. Hall dominated the bout early on, with his trademark right-handed punches, along with spinning lariats, biels, and overhead throws. The Brit retreated often to the safety of his side, but he couldn't gather any momentum. However, the former ROH champ kicked out of every pin as well, insuring it was going to be a long night for both men.
The combatants tied up, and spun back and forth along the ropes. Barrett took a swipe at Hall, and before the ref could even warn him, Page and Bigelow were shoving and swinging at him and Regal. A few more officials came down to ringside and ejected the four of them – but in the confusion, Regal threw a pair of brass knuckles to his compatriot in the ring, who popped Hall squarely between the eyes. He screamed at the referee to make the count on the bloodied champion, but Hall kicked out just before the third strike of the canvas.
McGuinness took over. Multiple clotheslines and kicks preceded a variety of hammerlocks on Hall's left arm, as the native of London tried to neutralize his foe's strength advantage – AND take away the "Razor's Edge". But the champ would not submit, and rallied as the trickle of blood began to stream. Punches and a pair of back-bodydrops put McGuinness on the defensive, and he backed into a corner. As Hall followed, the ref held him back – just long enough for the Brit to retrieve the brass knuckles from his trunks. He swung wildly, though, and Hall set him for his finisher. But he could only get him halfway before his arm gave out, and dropped him. Before McGuinness could slip away, Hall gave him a series of huge kneelifts, and after one deep breath, picked him up again. This time, he hit it – the "Razor's Edge" brought the Brit crashing down for the three-count. Hall held the Intercontinental title high over his head, got a towel from ringside to wipe the blood from his face, and celebrated with the fans as the show ended.