Post by fifthhorseman on Jun 8, 2014 21:59:47 GMT -5
NOTE: THIS IS THE LAST WEDNESDAY NIGHT WARRIORS EPISODE TO AIR BEFORE THE 2014 AWA CROCKETT CUP PPV.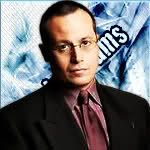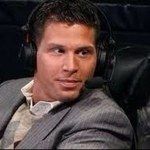 Joey Styles:
We are live from the Huntington Center in Toledo, Ohio – THIS is AWA Wednesday Night Warriors! My name is Joey Styles, and I will be handling the play-by-play commentary for the next two hours, during which you will see the greatest and most intense wrestling action on the face of the planet! We have six matches scheduled on tonight's card, including the AWA Television champion, the Great Muta, defending his title against the Young Bucks' Matt Jackson! Muta was one count away from losing that belt last week – let's see how he rebounds. But that's not the only championship defense you'll see tonight – the AWA Tag-Team champs, the Miracle Violence Connection, comprised of Terry Gordy and Steve Williams, take on Diamond Dallas Page and Bam Bam Bigelow! As for the rest of the card, here's my "Tough Enough" partner, Josh Mathews!
Josh Mathews:
Hello wrestling fans, and thanks for tuning in tonight! You will also see Barry Windham take on the HoRsemen's own Tully Blanchard! Mike Awesome battles "Unbreakable" Michael Elgin! Adrian Neville squares off against Petey Williams in what is sure to be an aerial battle, and last but not least, the Dudebusters and the Varsity Club tangle in tag-team competition! Speaking of tag teams, live on Wednesday Night Warriors, the brackets for the 2014 AWA Crockett Cup will be revealed!
Joey Styles:
That's right, Josh – but let's buckle up and get ready for tonight's opening contest!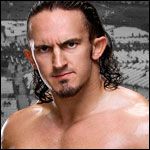 VS.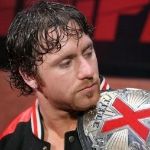 Adrian Neville vs. Petey Williams
: This was fought as much above the ring canvas as on it; reminiscent of Williams' X-Division battles a few years earlier, and Neville was more than capable of keeping up. After all, he was – is- the man that gravity forgot. Neville enjoyed, for him, a very rare height and weight advantage, but Williams' strength negated it. This was an excellent opener that primed the crowd for the rest of the night. After ten non-stop minutes, Neville defeated Williams with the "Red Arrow" corkscrew SSP.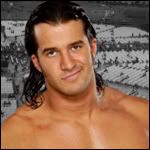 VS.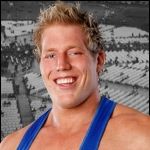 The Dudebusters vs. the Varsity Club
: Both teams wrestled with a sense of desperation, as if their slot would be determined by their performance in Toledo. Swagger mauled both Barreta and Croft early on, using his sheer power and amateur acumen to throw the Dudebusters around at will. Rotunda kept the advantage until he got caught in their corner, and then the 'Busters went to work with a variety of unique double-team maneuvers. But the Syracuse standout did eventually escape, and Swagger cleared house once more, ultimately finishing off Croft with the ankle-lock.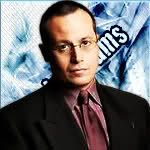 Fans, we've kept you waiting long enough! Finally, and at long last, we can reveal the first-round matchups for the highly-anticipated AWA Crockett Cup, taking place over three action-packed nights starting on June 20th. You can order this pay-per-view extravaganza - three nights of American Wrestling Association action - for just $60! And now... here it is!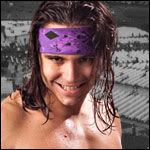 /
VS.
/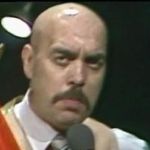 Matt Jackson (w/Nick Jackson) vs. the Great Muta [C](w/Gary Hart)
: Styles voiced over the replay of Muta's disqualification loss to Magnum T.A the week before, and hyped the upcoming three-way championship dance between he, Neville, and Kazuchika Okada at the Crockett Cup. The Bucks were as cocky as ever before the bell rang, while Muta was stoic in his corner. Once the bell rang, though, it was a surprisingly one-sided affair in the champion's favor. Muta wanted to send a message, and he did, with kicks and dropkicks, chops, elbows, and chokes, legal and otherwise. Despite the protestations and attempted interference from Nick, the Great Muta dispatched his foe with his patented moonsault in just over five minutes.
/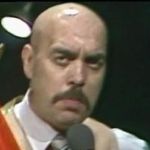 VS.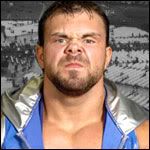 Mike Awesome (w/Gary Hart) vs. Michael Elgin
: Despite the substantial height disadvantage, Elgin was more than willing to stand toe-to-toe with the former ECW champion. This was power vs. power, and both men used a variety of moves that – with their strength and technique – were unique to the AWA. The brawl spilled outside, and the official in charge, caught up in the excitement of the match, was quite content to let them fight for as long as they wanted. The momentum switched several times during this closely-contested battle, but the endgame occurred with a Paul Orndorff distraction. Elgin spotted "Mr. Wonderful" strutting down the ramp, and began climbing through the ropes to get at him. But Awesome kicked the middle rope, crotching Elgin while the ref yelled at Orndorff, and followed with a thunderous "Awesome bomb" that kept Elgin down a millisecond longer than the three-count.
Hart raised Awesome's hand in victory, and Elgin bolted from the ring and chased Orndorff to the back. However, their celebration was cut off by AWA Heavyweight champion Daniel Bryan, who emerged from the dressing room, microphone in hand. "Mike Awesome… here I am. I can see you. That means you can't hit me with a chair from behind again. Look, we all know the reason you did what you did is that you're Gary Hart's attack dog. And hey, if that's how you want to go through life, that's your choice. He sent you out to soften me up a bit for Big Van Vader at WrestleRock next month. I get it. But guess what? I'm the best wrestler in the world. That means I'm going to beat everybody I wrestle before Wrestlerock, I'm going to beat Vader at Wrestlerock, and then, I'm going to set my sights on the MUW World championship!"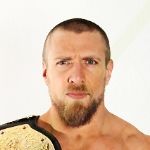 "If that means going through you to get ready for Vader, then that's what I'll do. Mike Awesome, I want you, one on one, at the Crockett Cup!"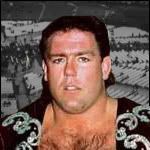 /
VS.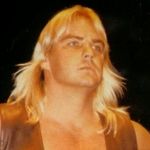 /
Tully Blanchard (w/Edge and JJ Dillon) vs. Barry Windham (w/Rick Martel)
: This match was a prelude of sorts to the Crockett Cup, with each combatant seconded by his tag partner. Blanchard and Windham was certainly no strangers to each other, and it showed. Chain wrestling, counter-wrestling, mat wrestling…. everything you'd expect from two smooth, experienced technicians in a Southern-styled NWAesque match. The HoRseman took charge with some punches, but Windham retaliated with several of his own. Edge sought to get involved, but he was cut off by Martel. Cooler heads prevailed, though, and they separated while the match continued. After about 17 hard minutes, Windham took down Blanchard with a sunset flip for the win. After the match, Magnum T.A. tried to get his hands on Blanchard, but the Texan retreated behind Edge and Dillon, as Windham and Martel restrained him.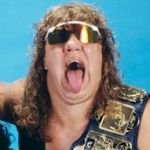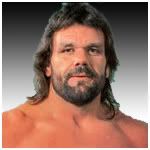 VS.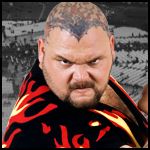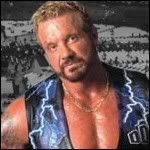 /
The Miracle Violence Connection [C] vs. Bam Bam Bigelow/Diamond Dallas Page (w/Kimberly)
: No handshakes as Hemme made the main event introductions, but the respect was evident. Early on, Page and Bigelow showed that they still possessed some chemistry from their days together in WCW as two-thirds of the Jersey Triad, and they matched up evenly with the MVC. But Gordy was not going to be denied, and "Bamm Bamm" overpowered DDP, and used big suplexes and shoulder-tackles to floor his foe. Quick tags between him and "Dr. Death" ensued, and Page was steadily, methodically drained. But the hardest working man in wrestling refused to give in, and he would not stay down on the mat. He kept bouncing back up, and when Williams missed on a spear, Page was able to crawl over to his corner to tag in Bigelow. The behemoth stayed on the offensive, with huge right hands and headbutts rocking the champ. Gordy tried to save him, but Bigelow fended him off as well, chewing up the clock until Page could recover and join the battle. After about a minute of pier-four brawling, Page was thrown outside, and Gordy hit a big running boot on Bigelow. Without missing a beat, Williams picked up the nearly 400-pounder, put him on his shoulder, and connected with a devastating running powerslam. Three long seconds later, and the champions retained.
As the four exhausted warriors staggered to their feet, the Crockett Cup brackets were shown once more, and Styles and Mathews hyped the legendary teams in the tournament, as well as the three championship matches added to the card.